The Wall Street Journal has ranked Human Resource Management (HRM) the 35th most promising career of the decade out of 800. The list, based on wages and projected annual demand provided by the Bureau of Labor Statistics (BLS), was released in May 2021.
While projections for careers in the Human Resource industry vary depending on specialization, location, years of experience, and other factors, all projections point to a steady growth rate for jobs at 7 percent (As fast as average).
The HR industry provides job opportunities in almost every business, leaving plenty of room for advancement and growth. The BLS anticipates a total of 16,300 new openings between now and 2031.
The median salary for a human resource manager is $126,230, while for human resource specialists, it's $62,290. Specialists also have a slower growth rate and less anticipated new openings compared to managers.
What is human resource management?
The human resources department of every organization oversees recruiting, interviewing, and hiring of new staff; consults with top executives on strategic planning; and serves as a link between an organization's management and its employees. Management positions require an understanding of HR programs, such as compensation and benefits plans, HR software, and federal, state and local employment laws.
Positions within the human resource industry include:
Human Resource Specialist/Manager
Labor Relations Specialist/Manager
Compensation and Benefits Manager
Training and Development Manager
Payroll Manager
Recruiting Manager
Staffing Manager
Employee Relations Manager
And others
Employees ultimately impact every organization's bottom line. With changes in laws regarding occupational health, affordable healthcare, compensation, and equal opportunity, organizations now, more than ever, count on highly skilled human resource managers to navigate this terrain.
What type of education do I need to be a human resource manager?
Most entry-level positions, like human resource specialists, are administrative: reviewing resumes and references, conducting new employee orientation, and processing paperwork. These positions require at least a bachelor's degree. On top of being outsourced, these positions can be easily replaced by technology with new software available.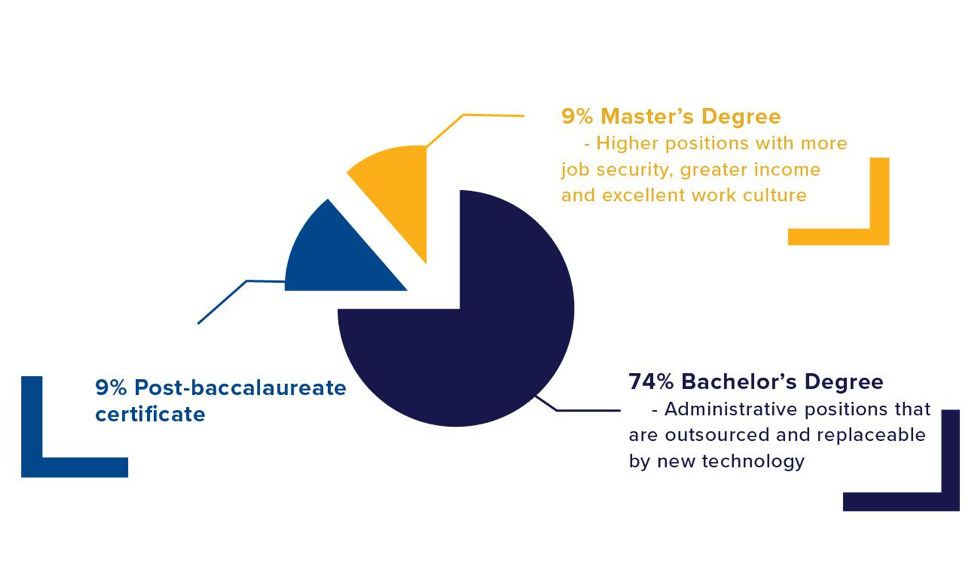 Higher-level positions are more strategic and require professionals to leverage their organization's human capital to create a competitive advantage. These are positions that most frequently require advanced training and are in higher demand.
These roles offer more job security and allow professionals to make a higher income while contributing to business culture, strategy, and overall happiness and motivation of employees. According to the BLS, candidates with a master's degree hold the most job prospects. And with data provided to O*NET OnLine, we know that 9 percent of all HRM positions now require a master's degree. 
Investing in education
If you choose to pursue a master's degree, it's essential to do your research and attend an accredited institution. FIU is AACSB-accredited and provides a Master of Science in Human Resource Management program, in-person and online, that has been ranked #1 by HR.com for two years in a row.
To learn more, read, " Is a master's degree in human resources worth it?"