Have you ever caught yourself wondering what your next career move should be? Both recent graduates and established employees often find themselves stuck and looking for the next best thing: a higher position, a greater salary, or an entirely new industry.
For many individuals, this is the time they consider earning a graduate degree. The time and monetary commitment required to earn graduate degree is not small. So, you're asking yourself, "Is it worth it?"
As businesses grow and new companies emerge in the market, more opportunities are becoming available for those interested in human resources. Entry-level positions tackle hiring, training, managing payroll, educating employees on benefits, or other simple tasks that are being quickly replaced by new software on the market.
If you wish to improve your job security, have a higher income, and sit at the "big kids table," you should consider continuing your education.
Advancing your education also means being able to implement your ideas, solve complex issues, and have a lasting impact.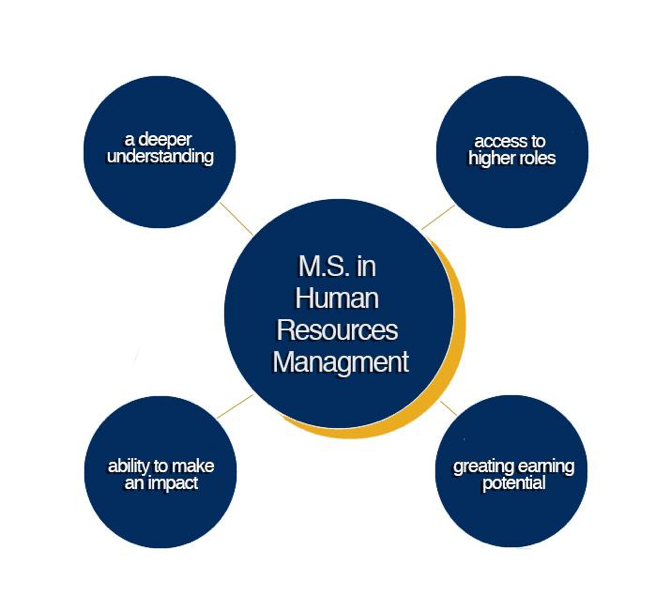 A deeper understanding of human resources
So, what can an master's in human resource management program provide? It gives you in-depth training in everything human resources encompasses. The knowledge obtained within these programs will prepare you to develop new policies, play a key role in business decisions, and coordinate your entire company's workforce.
You'll learn from experts in the industry, build a vast network of professionals, receive hands-on training, access resources and software, and earn eligibility to complete certifications. All these elements are vital to your growth within HR.
Access to higher roles in a company
A bachelor's degree in human resources will give you a strong foundation in business and in human resource management, but it won't prepare you to transform a company.  According to the Bureau of Labor Statistics (BLS), candidates with a master's degree or certifications hold the most job prospects. Therefore, unless you have years of experience, executives tend to lean more on the support of those with a master's degree. When upper-level management positions become available, they give those opportunities to those with higher credentials.
Greater earning potential
With a higher degree comes higher earning potential. Top executive positions that require graduate degrees earn double (sometimes triple) the salary compared to a position that only requires a bachelor's degree.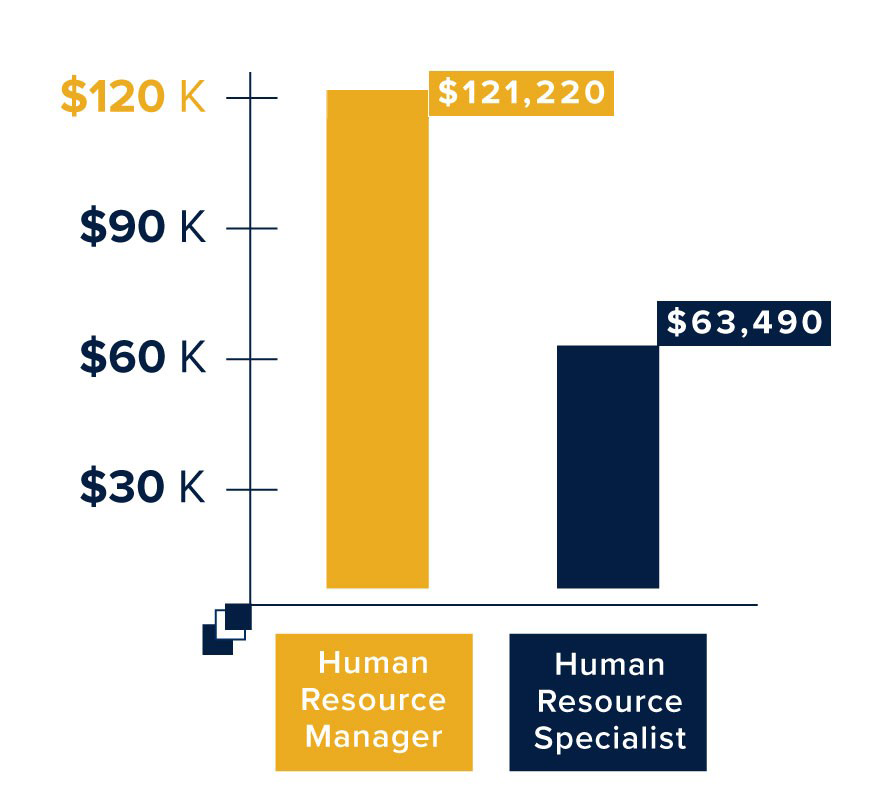 The BLS reports that the median salary for a   human resource manager  (which often requires a master's degree) is $121,220, while for   human resource specialists, it's $63,490.
Make an impact
Obtaining executive roles allows you to influence decision making in your organization. In today's competitive environment, companies must innovate, grow, and adapt to changes quickly. You'll play an integral part in this and see your ideas come to fruition, ultimately impacting business culture and the lives of employees.
Wouldn't it feel good to have the power to implement changes that could positively affect the lives of others?
Conclusion: A worthy investment
The competitive edge that comes with holding a master's degree is necessary to grow and succeed in this industry. Whether it's for more knowledge, more pay or more of a say in a company, you play one of the most critical roles in a business. After all, employees have one of the most significant effects on a business's bottom line.
If you're looking for more information about FIU's Master of Science in Human Resource Management program, visit our website or attend an information session.