The People behind the names
When two pre-eminent business leaders believe enough in a college to invest in its future, it's a tremendous compliment. It's even more laudable when they give us the use of their good names and outstanding reputations. The College of Business at Florida International University is now even stronger thanks to these generous benefactors.
Alvah H. Chapman Jr.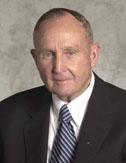 Alvin Chapman Jr. was one of South Florida's most influential business leaders for 30 years—responsible in many ways for Miami's emergence as an international business center. A third-generation newspaperman, he came to Miami in 1960 to work for Knight Newspaper. He helped take the company public in 1969 and was the leading architect of the 1974 merger that created Knight Ridder in Miami. Chapman became chief executive officer of the company in 1976 and chairman in 1982. During his tenure, corporate revenue tripled and the Miami Herald won 33 Pulitzer Prizes.
His leadership was also evident in a wide range of civic and community projects. He co-founded the Non-Group, an influential alliance of Miami-Dade business leaders, and was a champion of this community's nationally-recognized homeless program as founding chairman of Community Partnership for Homeless Inc. Following Hurricane Andrew's devastation of Miami-Dade County in 1992, former President George Bush tapped him to lead the massive "We Will Rebuild" effort.
Chapman died on December 25, 2008.
R. Kirk Landon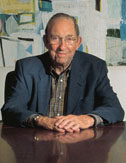 R. Kirk Landon worked for nearly five decades to turn American Bankers Insurance Group from the small, family-owned business started by his father into a multibillion-dollar corporation and the largest insurance firm in Florida. After selling the company to Assurant (formerly Fortis) in 1999, Landon dedicated his time to creating and overseeing two private charitable foundations.
Having publicly stated that philanthropy would be his last career, Landon contributed to a myriad of important causes for many years. He made gifts for building the Landon Family Garden on the grounds of the Miami Project to Cure Paralysis, and furthered the quality of life of Miami-Dade residents by donating to Community Partnership for the Homeless, the Miami Children's Museum and several arts organizations. Landon also supported nursing education by providing funds to establish a clinical laboratory.
Landon died on March 24, 2015.
Tibor Hollo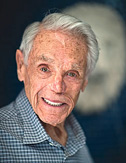 Tibor Hollo is highly-regarded by his peers as a pioneer and one of Miami's true visionaries. Over 60 years ago, he forged a path for the future by constructing the very first high-rise building on Brickell Avenue. The concept of living, working, and playing in the urban core long has been his dream, brought to life through his many developments, especially in the Omni/Venetia area and the Brickell corridor. His vision now is truly taking shape on a large scale, as evidenced by the growth and excitement permeating the areas in and surrounding our beautiful downtown.