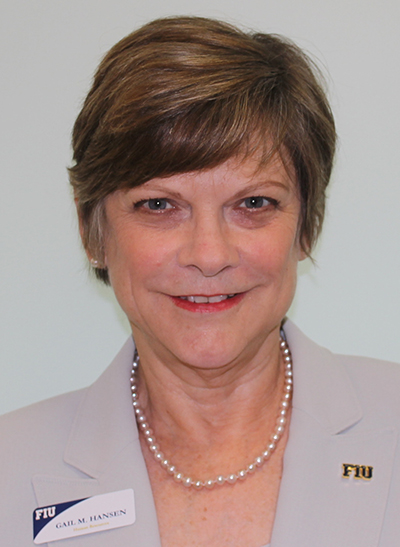 College of Business
Florida International University
Modesto A. Maidique Campus
11200 S.W. 8th St, MANGO 410
Miami, FL 33199
Phone: (305) 348-9916
Email: gmhansen@fiu.edu
Gail Hansen
Adjunct Lecturer, Department of Global Leadership and Management
College of Business
Florida International University
Modesto A. Maidique Campus
11200 S.W. 8th St, MANGO 410
Miami, FL 33199
Phone: (305) 348-9916
Email: gmhansen@fiu.edu
---
Education
DOCTORATE in Adult Education and Human Resource Development
Florida International University, Miami, Florida
Master of Science in Adult Education
Florida International University, Miami, Florida
Areas of Expertise
Performance Management
Supervisor Effectiveness
Talent Acquisition
Professional Activities
Gail Hansen, Ed.D. 
Dr. Gail Hansen joined Florida International University in 2013 and serves as Director of Talent Acquisition and Management in the Division of Human Resources.  FIU's Talent Acquisition and Management department is responsible for building a pipeline of talent for the university through recruitment, professional development, performance management, and strategic initiatives.   
Dr. Hansen earned her doctorate in Adult Education and Human Resources Development and her research interests are in employee perceptions of organizational and supervisor support, psychological contracts, and affective commitment.  She is an adjunct instructor in the College of Business, teaching Human Resources topics including Union/Management Relations, Managing Diversity, and Facilitating Teambuilding. Previously, Gail held senior leadership roles in Human Resources and Organizational Development, serving as Vice President of Learning, Chief Learning Officer, and Senior Vice President of Human Resources in banking, retail, and cruise industries.   
Gail is a national member of SHRM, Society of Human Resources Management, and the Association for Talent Development.  She served three terms on the ASTD National Public Policy Council, representing the issues of industry and higher education on Capitol Hill.  In 2012, she also served as Chair of the ASTD International Conference and EXPO, with more than 10,000 attendees.  She was highlighted in T&D Magazine for her work in creating a learning brand and culture for one of the nation's largest banks.  
In her role at Florida International University, her team developed and leads university-wide programs such as Service Excellence, Career Ready, COVID-19 Safety, and New Employee Experience, Supervisor development, Performance Excellence Process (PEP), and Leadership Education Advancement Program (LEAP).  
Courses Taught
Facilitating Activities for Teambuilding
Managing Diversity
Union-Management Relations