When considering a degree in health informatics, it is important to look for accredited programs. Currently, there are only 17 graduate programs accredited by the Commission on Accreditation for Health Informatics and Information Management Education (CAHIIM).
What is accreditation?
Accreditation is an evaluation process used to assure academic quality in higher education. When a university says it is accredited, it means it has been and will continue to be reviewed time and time again by a board of experts in the field to receive their approval. It is a way to let students, families, and the government know that what is being provided is a high-quality education.
At the institutional level, FIU's College of Business is accredited by AACSB International - among the 5% of elite business schools accredited worldwide. Some of our individual programs are further accredited by organizations that specialize in their specific industries. The Master of Science in Health Informatics & Analytics (MSHIA) at FIU is one of the few programs across the U.S. accredited by CAHIIM.
What is CAHIIM?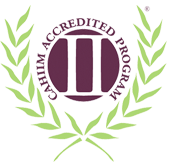 CAHIIM was created by American Health Information Management Association (AHIMA). It provides students with consistent quality monitoring of health informatics and health information management programs through their accreditation processes.
Their rigorous review ensures the public that the program meets the high standards set forth by CAHIIM and their Board of Directors in code of ethics, resources, curriculum, and faculty.
How does CAHIIM accreditation benefit students?
CAHIIM's accreditation is a voluntary process FIU undergoes to ensure that students are receiving a relevant and up-to-date education that gives them the best qualifications and allow them to excel in their career. The curriculum is constantly under review to give students a competitive edge in the workforce.
As a student in an accredited program, you can:
Be assured that you are receiving a high-quality education which includes industry required knowledge
Work with the latest technology and software currently used by those in the profession
Learn from faculty who are experts in the field and have been approved to teach the subject
Increase the chances of better employment opportunities since companies prefer to hire graduates from accredited programs
Pursue professional certifications from AHIMA that employers look for (a common eligibility requirement is to have a master's degree from a CAHIIM-accredited program)
So, what's the conclusion? No matter where your career will take you in the health informatics industry, it is important to attend an accredited program. These credentials assure you that the education you are paying for is worth investing in and will give you the best opportunities after graduation.
If you'd like to learn more about a career in Health Informatics & Analytics, we invite you to attend an info session or talk to an advisor.