A career in sports management often feels like an unreachable dream for many of us. Jonathan Lau, a graduate of the Professional MBA in Sports Management at FIU and Real Madrid Graduate School, is proof that all is possible with passion and focus. Utilizing the lessons learned and connections made from the program, he rose from internships to a senior-level position at a major sports organization.
Born in Canada, Lau's life took him from Trinidad and Tobago to Miami before he settled in New York, where he currently thrives in his career. Armed with a background in biology and literature, Lau's journey initially seemed far removed from the realm of sports management. Lau's educational pivot came after he completed his undergraduate degree in 2014, a decision that led him to the Professional MBA in Sports Management program at FIU's Chapman Graduate School of Business and Real Madrid Graduate School, from which he graduated in 2023. His fervent love for sports was a constant thread woven through his life, an enduring passion that eventually led him to take a courageous leap of faith.
"Being a lifelong Real Madrid fan, it felt like it was the right progression," Lau said.
Reflecting on his academic challenges while pursuing his MBA, Lau acknowledged the difficulty of some math-related courses in his program. However, he found these challenges to be incredibly useful, as the knowledge gained from these subjects continues to be relevant in his work today. One of Lau's pivotal experiences was during his time at White Week, a residency program where students travel to Spain, interact with sports executives and experience the day-to-day operations of Real Madrid C.F. During White Week, Lau was able to expand his network with industry professionals and experience unforgettable moments, like meeting superstar David Beckham.
During the MBA program, Lau was offered an internship with InterMiami, which proved to be a steppingstone in his career. Working closely with the communications, marketing, and operations teams, he honed his skills in various areas, from writing editorials to establishing connections with media members. His internship at InterMiami not only allowed him to witness the live action up close but also provided him with a comprehensive introduction to the sports industry.
"People in the industry recognize when someone is enthusiastic and when someone is willing to go the extra mile and I think the idea of being teachable definitely goes a long way," said Lau.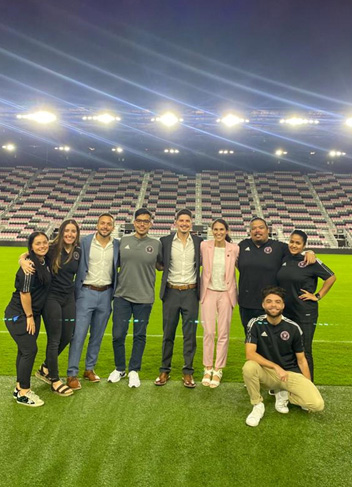 The connections Lau made during his time at InterMiami eventually led him to his current role at MLS Next Pro, a subsidiary of the Major League Soccer (MLS). Lau holds the title of senior communications coordinator as a member of the marketing team. In this capacity, he contributes to the development of emerging professionals in the industry, offering them a platform to compete at a high level. Lau credits his success and preparedness to his education, emphasizing the invaluable guidance provided by the faculty while earning his Professional MBA in Sports Management degree at FIU's Chapman Graduate School of Business and Real Madrid Graduate School. The program equipped him with essential tools and knowledge, instilling in him the confidence needed to excel in the corporate and business environment of the sports industry.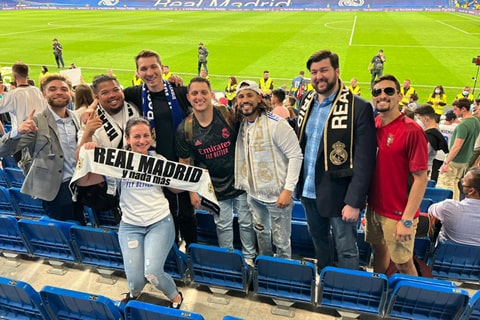 Lau's advice to aspiring sports management students is grounded in practical wisdom. He emphasizes the importance of learning from faculty and peers and encouraging students not to shy away from asking questions. He also stresses the significance of seeking internships and real-world experiences early on, urging students to be proactive in pursuing opportunities. Furthermore, he advises students to have a clear vision of their desired field within sports management, as this clarity is instrumental in securing the job they aspire to achieve.
Jonathan Lau's inspiring journey serves as a beacon for future sports management professionals, highlighting the significance of dedication, adaptability, and a proactive approach in the pursuit of a fulfilling career in the dynamic world of sports.
If you are interested in advancing your education in sports management, we invite you to visit the FIU Real Madrid Graduate School MBA program page.