Transitioning from military service to civilian life can be a daunting prospect, but for prospective students aiming to earn a graduate degree, there are strategic steps to ease this transition.
Create a Plan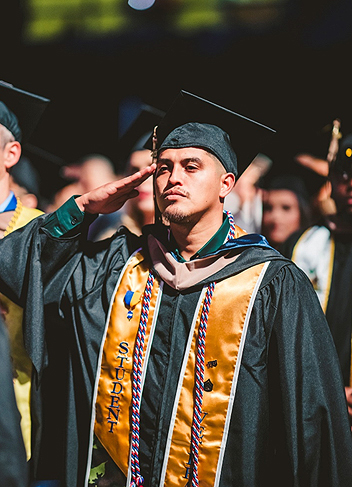 The first step in this transition process is self-assessment. Reflect on your interests, skills, and passions to identify the most suitable field of study for your graduate degree. Set clear, achievable goals and outline the steps needed to accomplish them. Consider how your military experience can be applied to your academic pursuits and future career.
Current student at the FIU Chapman Graduate School of Business, Carlton Robinson is enrolled in the Professional MBA Weekend program. He mentioned, "I created a plan to provide a purpose for my future – I felt that earning my MBA at FIU was a good start."
Research and Networking
We suggest that if pursuing a graduate degree is something you wish to do, you should conduct extensive research on potential universities and programs. Look for institutions with strong support systems for veterans, including dedicated academic advisors, counseling services, and veteran-specific scholarships. Utilize online resources and social media platforms to connect with other veterans who have successfully transitioned into civilian life and pursued higher education. Networking can provide valuable insights and mentorship opportunities.
Juan Carlos Gomez is a graduate of the Professional MBA Online program at the FIU Chapman Graduate School of Business. He is a reservist in the United States Army Reserve, a lieutenant colonel and an individually mobilized augmentee at the special operations committee at Homestead Airbase. He is on the FIU Chapman Graduate School of Business Alumni Board and is also the commander of the American Legion Post 98 in Coral Gables, Florida. Gomez has been in the service for 24 years, 15 years on active duty and nine years in the reserves and now owns an operating company, "Building Experts," based in Miami, Florida.
Gomez emphasized the importance of collaborating with fellow peers in order to succeed during an MBA program. "You have to work in collaboration with your peers to ensure that you are caught up with all your workload. They all have different perspectives and can offer information that will help you to succeed."
Utilize Your Military Benefits
Explore the various education benefits offered to military veterans, such as the GI Bill and Yellow Ribbon Program. Understand the eligibility criteria and application process for these benefits. Additionally, many universities have veteran resource centers that can assist you in navigating the paperwork and accessing available resources.
Robinson said, "If you can use your G.I Bill or any other sources available to fund your degree program, you should take advantage of it."
Transition Support Services
Once admitted to a graduate program, take advantage of the transition support services offered by your university. Attend orientation sessions, workshops, and seminars designed specifically for veterans. These resources can help you acclimate to the academic environment, build connections with fellow students, and enhance your overall university experience.
We learned that it is recommended that you inform your chain of command that you are in a highly demanding program that will take time and effort but will ensure the enhancement of your career. Finding a nexus between your career and education is critical.
If your key leaders know this, it is likely that they will support you, allocate the time necessary for you to complete your studies, and motivate you from a career enhancement standpoint.
"It's not easy, but it is possible for any individual with the drive and effort who wants to pursue advanced education. The military has benefits, but it's up to you whether you take advantage of them," Gomez said.
Time Management and Self-Care
Balancing the demands of graduate school with other responsibilities requires effective time management skills. Create a realistic schedule that allows for studying, attending classes, and personal time. Don't hesitate to seek support from professors, classmates, or counseling services if you feel overwhelmed. Prioritize self-care to maintain your physical and mental well-being throughout your academic journey.
Although it was challenging at first, Robinson mentioned that with a clear time-management schedule, he can achieve a balance.
"I organize my life in segments to focus on what task is the most important to complete. My new career as a business education teacher allows me to relive my military training every day. I am awake at 5:30 a.m. I steer my students to start a meaningful morning at 7:20 a.m. Lastly, in the evening, I communicate with my FIU team members, setting hard deadlines. Structure allows me to meet all my obligations," he said.
Military alumni emphasize the importance of discipline and proper time management. "You have to allocate time that you need to get things done during the time where you are in your classes," Gomez said.
Not all challenges faced during your military and educational career will be conventional, but there are methods and solutions for solving them.
We learned that many of the challenges military students face are technical. When traveling in different parts of the world it is common to come across technological difficulties. "The technology was often the issue, but it was also a part of the solution, because without it I wouldn't have been able to accomplish long distance learning," Gomez said.
The lieutenant emphasized that because he spent the vast majority of his time in remote locations while in pursuit of his MBA, he needed to find creative solutions to his technical issues.
Creative solutions can come in many ways; it is advised to consider the use of internet cafes, changing your schedule to ensure you have stable internet, and working with your colleagues so that they can help you connect with the internet. Another option is watching online recordings of your class if you are unable to attend a live lecture.
Transitioning from military service to civilian life and pursuing a graduate degree is a challenging yet rewarding journey. Education can empower individuals with a military background to make meaningful contributions to both the military and civilian sectors.
Gomez believes that the military provides individuals with organizational/management skills, interpersonal, developmental, leadership, and time management skills that combined with higher education, will enhance any organization.
"Once your military career is over you have vocational and educational skills that when applied can be very useful, impactful, and resourceful," he said.
By bringing in research and various fields of information available outside of the military, this is likely to enhance the pool of ideas in problem solving, therefore making you a desirable candidate for a job.
"I believe that former military members have a degree of professionalism, dedication, responsibility, and values, incumbent in them that is valuable to any organization," the lieutenant said.
Below are some valuable resources to explore graduate programs and available resources to military and veterans:
The FIU Chapman Graduate School of Business provides military personnel with a multitude of academic pathways: MBA, specialized master's, doctoral and certificate programs.

We offer flexible scheduling options, including part-time, weekend, and online programs, accommodating the demanding responsibilities of military life. This flexibility ensures that active-duty personnel can pursue advanced degrees without compromising their commitment to service.


The Center of Excellence for Veteran Student Success connects students and faculty to support services across the university, including Admissions, OneStop Enrollment, Career and Talent Development, Student Health and Wellness, the Disability Resource Center, and more.


FIU also has a dedicated Office of Veteran and Military Affairs (VMA) that provides comprehensive military-friendly services and programs for FIU veteran and military-affiliated learners.

Veteran and Military Affairs | Division of Academic & Student Affairs | Florida International University (fiu.edu)
Campus Life Resources: