A self-described perfectionist, Renee Smith began high school at age 10 and graduated when she was 14 in her native country of Jamaica. In 2000, when Renee arrived in South Florida, she was 17 years old.
Financial difficulties and other life commitments forced Renee to put her college education on hold. However, an early job in medical records inspired her to make correction centers the hub of her career.
Over the last 13 years, Smith has managed health information for four South Florida correctional facilities, totaling 3,500 beds. In 2017, she completed her undergraduate degree in supervision and management, while working in the jails. Her next career move was to earn a Master of Science in Health Informatics and Analytics (MSHIA) through FIU's CAHIIM-accredited program.
"Throughout the program   I have been exposed to different aspects of healthcare more so on the analytics spectrum," said Smith. "I have learned how to apply that where it can be visualized and even compared to other healthcare data, all in an effort to identify areas of improvement and foresee healthcare trends."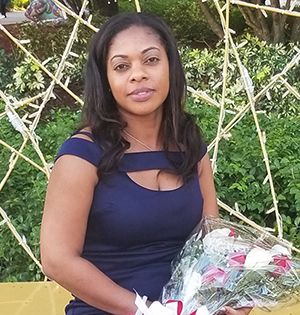 Smith credits the Consumer Health Informatics course with providing skills critical to think outside the box and apply the knowledge to different segments of the correctional healthcare industry to make changes happen. As part of one course project, Smith focused on data collection to improve access to behavioral healthcare in jails and prisons in the U.S.
Combining her work experience with the knowledge gained from the course, she created a plan to improve the treatment of mentally ill patients currently in Broward's correctional system. She was a part of the medical team that led the facility to be awarded "Facility of the Year" by the National Commission on Correctional Health Care.
Renee credits the Master of Science in Health Informatics and Analytics with giving her the strength to apply for her current position and ask for a higher salary. She got both.
Renee Smith earned her master's in Health Informatics and Analytics in fall 2019, where she was named a World's Ahead graduate. The chosen few are said to exhibit outstanding perseverance, intelligence, and personal strength during their time at FIU.