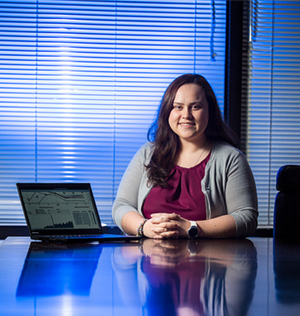 Selecting the FIU MSHIA was a decision that I am very thankful to have made. I would not have had the opportunity to be in my current career level without it (nor do I think I could have found my passion for working with data mining and data visualization without it!).
When I applied for this master's program, I had just finished my undergraduate degree in Psychology from FIU and was working in a private medical practice. I had only ever worked in healthcare, and I knew I wanted to continue in the field, but I have always also had a personal interest in IT, although I had never received any official training in either one. As such, I was very worried this program would be out of my league. Fortunately, I was surprised to learn that the MSHIA program's student population is a blend of backgrounds all along the spectrum of Healthcare and Information Technology, all students falling somewhere in the middle.
The majority of assignments are group projects, which encourage team building, critical thinking, and working together to solve problems; working so hard together meeting deadlines and sharing ideas will form a strong bond between your fellow classmates and professors. This component becomes critical – especially after graduating!
I was also very impressed with the professors; they have all worked in the field and have great advice to offer. The lectures and assignments include real-world scenarios and examples, which improve the quality of education for students. Additionally, they are passionate about their work and about teaching! They are all wonderful.
Last, but certainly not least, I felt the curriculum was perfectly well rounded and included each component of the ever-evolving world of healthcare informatics and analytics. Now that I am working in the field, I can appreciate this combination of classes that much more. In my job, there have been different times in which I have been exposed to a multitude of the subjects taught in the MSHIA program, which otherwise, I would have no idea about. Even though I may not work directly in those areas, I am able to do my job at an enhanced level because I am well informed on the bigger picture and how healthcare IT all comes together.
After graduating in May 2015, I was offered a job in Baptist Health South Florida's IT department working as a Business Intelligence Consultant where I create reports and dashboards, as well as lead and work on numerous regulatory projects such as Meaningful Use and PQRS.
The MSHIA program shows students how to use advanced information systems to improve efficiency and quality in healthcare. MSHI&A educated me on the current issues in healthcare IT and how the field is rapidly expanding and in need of talent. The FIU MSHIA was challenging, but I am so thankful I chose it; if faced with the same decision, I would do it all over again with no reservations!
-Christina Cascante
Class of 2015