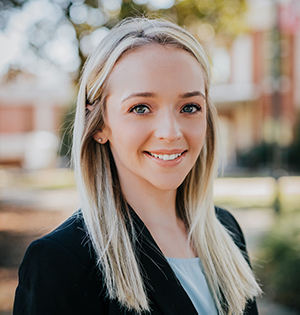 When Melissa Bassett was a teenager, her best friend was pronounced brain dead and passed away. The experience left an impact on Melissa, spurring her interest in health. After completing an undergraduate program in neuroscience that allowed her to conduct her own research, she sought out an advanced graduate degree that merged her interests in medicine and research.
Melissa enrolled in FIU's Master of Science in Health Informatics and Analytics (MSHIA) program noting that similar programs did not offer an analytical component. She explained the difference was significant because of how it "prepares students to approach health informatics problems from an additional and very valuable angle."
The program's curriculum taught Melissa how to write her own scope of work documents (SOWs) and project charters, as well as draft contracts. "I learned how to analyze healthcare data and create data visualizations, how to create and support my own databases, and basic coding. I gained an even more in-depth understanding of HIPAA and HIPAA compliances. I also learned how to map as-is and to-be processes and streamline efficiency and create positive change within the field."
Melissa also credits the fact that the program is under FIU'S College of Business as being extremely important in giving her a well-rounded education compared to programs from a health science or nursing college. She told us, "incorporating the business aspect can facilitate an entrepreneurial approach to many students like myself."
Through her research, she noticed an underserved market within the field, one of which included data management and analytic needs that existing vendors are not meeting. Upon doing some research, she noticed that few vendors could provide minimal technology to satisfy some of these unmet needs, but none who had the capabilities to support a large dataset such as those required for global clinical trials.
This opportunity led to Melissa co-founding a health informatics company - Storm Informatics Inc. Based in Nashville, Melissa manages and analyzes confidential healthcare data for clinical research trials, delivers HIPAA-compliant communications, oversees business operations, and conducts ongoing market research. The technology and service that Melissa has created can also apply to other fields, such as hospitals, physicians' offices and any other business that handles PI/PHI and customer data.
Melissa was in the process of negotiating her first multi-million-dollar contract with a major pharmaceutical conglomerate that has over 200 companies worldwide just one month after graduation. With the skills and knowledge developed with FIU's MSHIA program, she plans on taking her company international. 
Melissa earned her master's in Health Informatics and Analytics in fall 2019, where she was named a World's Ahead graduate. The chosen few are said to exhibit outstanding perseverance, intelligence, and personal strength during their time at FIU.