The Mission of the International Honor Society Beta Gamma Sigma is to encourage and honor academic achievement in the study of business, to foster personal and professional excellence, to advance the values of the Society, and to serve its lifelong members.
Objectives
Encourage and honor high academic achievement by students of business and management through chapters in business programs accredited by AACSB International.
Foster in Beta Gamma Sigma members an enduring commitment to the founding principles and values of the Society: honor and integrity, pursuit of wisdom, and earnestness.
Support the advancement of business thought and practice to encourage lifelong learning.
Enhance the value of Beta Gamma Sigma for students and alumni members in their professional lives.
Advance the visibility and reputation of Beta Gamma Sigma.
In 1984, Florida International University joined this prestigious organization and in Spring 2002, we initiated a campaign to reactivate our Beta Gamma Sigma chapter.  Subsequently, since then, we have inducted the top 10% of the undergraduate class and the top 20% of the graduate class.  Our Beta Gamma Sigma chapter seeks to honor the very best by bestowing the highest recognition a business student can receive.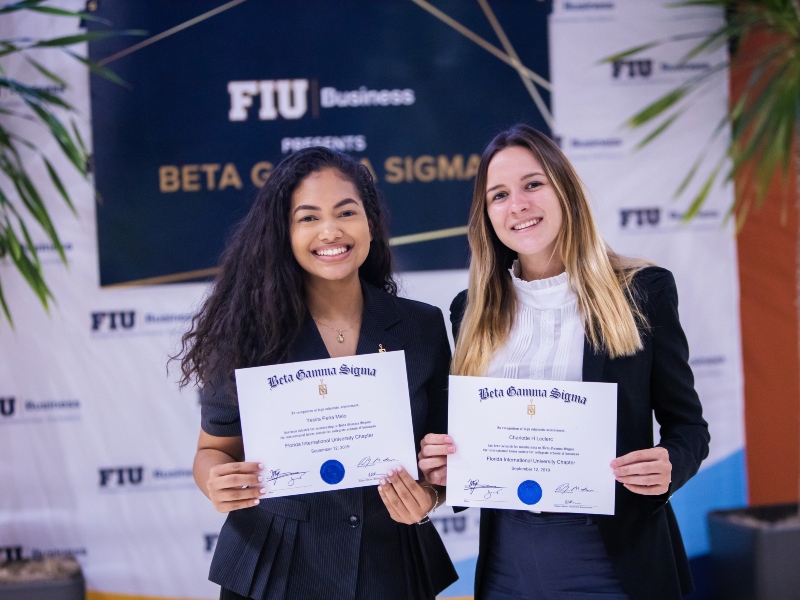 Benefits to Membership
 To learn more about some of the advantages of being a member of Beta Gamma Sigma, please visit the Beta Gamma Sigma National Website.
For more information on the Florida International University Chapter of Beta Gamma Sigma, please contact Donald Roomes: 305-348-2791, roomesd@fiu.edu.