Comprehensive Project Management (PMP) Certificate Program
To deal with rapid change, today's successful project managers must employ traditional techniques while recognizing the business need for a project, sort through conflicting stakeholders demands, and manage communications with virtual and even global teams. FIU's Comprehensive Project Management (PMP) Certificate Program empowers project managers with the tried-and-true tools and strategies for any size project—along with modern improvements derived from Agile.
Blending proven traditional and modern methods, our program imparts a combination of exciting new techniques and leadership concepts that have emerged from both industry and research. Whether you are an aspiring or a seasoned project manager, you will come away with tools needed to adapt and tailor your management approach to deliver successful projects that more challenging that those in the past.
Program prepares candidates for the PMP exam and utilizes both PMI PMBOK 6th and 7th editions.
Learning Objectives
Understand and apply Agile with examples and sample projects comparing traditional and Agile project management mindset and techniques.
Gain a firm understanding of PMBOK 6th and 7th editions, their unique approaches and orientations to project management practice and key concepts as they related to the PMP exam.
Explore and learn from examples created by project management experts demonstrating how organizations combine project management concepts and ideas in real-world settings.
Participate in actual projects and activities as learning vehicles – Work in a team to create deliverables and keep clean copies of deliverables to demonstrate project skills in job interviews.
Learn from industry PMP experts who not only work in the field and are ideally-positioned to provide you with unparalleled project management coaching and training.
Who Will Benefit
Executives, directors and senior managers tasked with leading organization-wide projects
Project managers and program managers looking to take on more complex projects
Mid to senior-level managers in technology involved in complex product development
Entrepreneurs and consultants looking to improve the success of their projects
Other professionals interested in pairing their practical experience with proven frameworks and tools for project management and leadership
Prerequisites
This course assumes participants have work experience in project management. If you feel you need a refresher or have less than 3 years of project management experience, it is recommended you take the Principles of Project Management course course prior to registering for this program. For the PMP exam eligibility and requirements, please click on "About the PMP Certification/Exam" section below or visit www.pmi.org.
General Information/Custom Programs: FIU Business Executive Education can create custom training programs specific to the needs of your organization. Please connect with us by submitting the inquiry form below or contact us 305.348.4217 or fiuExecEd@fiu.edu.
Request More Information
Use this form to request more information about the executive education training we provide and to let us know about your unique needs. Someone will respond shortly.
By submitting this form, I authorize the FIU College of Business to contact me. Learn more about our Privacy Policy.
Schedule & Registration
Virtual, Live / Instructor-Led

Program dates TBA
Saturdays, 9 a.m. to 12:30 p.m.
35 Contact/Training Hours
Program fee includes:
Expert PMP live instructors
Tools, templates and other educational materials
Instructional resources
Florida International University Certificate of Completion
Session
Day/Time
Topic(s)

1

Saturday
9 a.m. to 12:30 p.m.

Introduction to Project Management / Project Selection and Prioritization

2

Saturday
9 a.m. to 12:30 p.m.

Chartering Projects and Organizational Capability

3

Saturday
9 a.m. to 12:30 p.m.

Leading & Managing Project Teams / Stakeholder Analysis and Communication

4

Saturday
9 a.m. to 12:30 p.m.

Holistic Scope Planning / Scheduling Projects

5

Saturday
9 a.m. to 12:30 p.m.

Resourcing and Accelerating Projects / Budgeting Projects

6

Saturday
9 a.m. to 12:30 p.m.

Project Uncertainty Planning

7

Saturday
9 a.m. to 12:30 p.m.

Project Quality Planning and Kickoff

8

Saturday
9 a.m. to 12:30 p.m.

Project Procurement and Partnering

9

Saturday
9 a.m. to 12:30 p.m.

Determining Project Progress and Results

10

Saturday
9 a.m. to 12:30 p.m.

Finishing the Project and Realizing the Benefits
Topics
The curriculum covers the principles, methods, techniques and practices for managing projects of any size or complexity. The coursework is designed to provide you with a solid foundation in project management and prepare you for PMP® Certification.
You'll cover all the key topics below:
Principles and Techniques
Integration Management
Cost Management
Human Resource Management
Communications Management
Procurement Management
Risk Management
Quality Management
Program Faculty & Experts
About the PMP® Certification/Exam
The PMP designation is the global standard of project management certification. Recognized and demanded by organizations worldwide, the PMP designation validates your competence to perform in the role of a project manager, leading and directing projects and teams.
The PMP designation delivers value far into your career. CIO magazine ranked the PMP as the top project management certification because it proves you have the specific skills and experience employers seek. Certified PMPs report earning up to 25% more than non-certified project management professionals.
Financial Assistance & Discounts
FIU Executive Education programs are designed to enhance your management skills and boost your career success. Because our certificate programs are non-credit and do not lead to a degree, they do not qualify for traditional student financial aid. However, financial assistance is available in a variety of methods:
Stay in the Know
Sign up to receive notices about program discounts, new start dates and registration deadlines.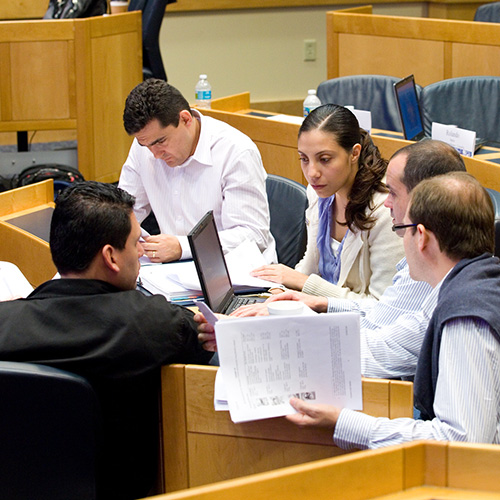 All Programs for Individuals
FIU Executive Education programs for individuals are delivered virtually by an instructor on evenings and weekends. The short programs, in such areas as human resources, project management, Lean Six Sigma, finance and more, can also be taken fully online at your own pace.