BankUnited Partnership

About the Program
In partnership with BankUnited, FIU Business launched its inaugural "Pink Tank," in November 2020. This leadership program is led by the directors of the ATOM Think Tank - FIU's first technology consulting practice, run by faculty from the Information Systems and Business Analytics (ISBA) department. The Pink Tank creates a space for STEM students to hone critical skills under the mentorship of BankUnited executives.
The ATOM Pink Tank engages and inspires students by increasing awareness of possibilities that exist in the fast-growing fields of science, technology, engineering, and math (STEM). The program opens conversations around trending themes and topics in STEM, viewed through the lens of business and aimed at impacting the FIU and South Florida community. A special focus is also placed on encouraging women as they navigate unique challenges in this male-dominated field.
This 6-month program runs from November to April of each year and is open to all STEM majors across Florida International University. Applications open in September. Students actively participate in various activities and events designed to sharpen them academically, build confidence, provide exposure, strengthen leadership skills, and enhance their overall professional development.
Program agenda
Kick-Off Meet and Greet Event
Leadership Forum Event
Training Workshops Series
FIU Power Up Women's Leadership Summit Presentation
Final Presentation Challenge and Awards Ceremony
Ongoing Faculty Support Meetings
Ongoing Mentorship Sessions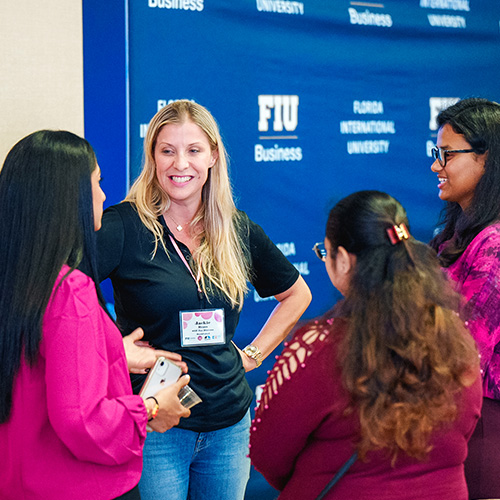 Experiential Learning Projects
Pink Tank participants will hone critical technical knowledge and skills under the mentorship of BankUnited executives. The ATOM directors, and other ISBA faculty serve as business coaches, to guide Pink Tank participants in mini projects, including a hackathon challenge. Students access the latest data analysis tools and software and benefit from a series of technical workshops to enhance their data analytics and research skills.
Teams collaborate to create solutions to real-world project challenges using real-life data sets. This experiential learning approach encourages confidence and knowhow in data analysis and manipulation, data visualization, creating interactive dashboards, and also in the art of storytelling, as students pitch their innovative solutions in front of business professionals.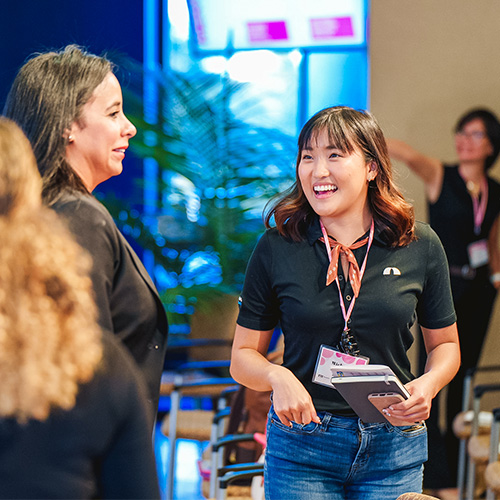 Teamwork & Collaboration
All high-achievers, and motivated FIU students pursuing STEM majors are encouraged to participate in the Pink Tank program. The past Pink Tank student profile was comprised a blend of diverse backgrounds and experiences. Undergrad and grad majors included astronomy, biological sciences, business analytics, chemistry, computer science, cybersecurity, engineering, finance, and information systems.
Team collaboration is central to the program. Students blend their unique skills, knowledge and viewpoints to complete practical team activities, conduct group research and analysis, and build professional presentations. Students are encouraged to share their strengths, backgrounds and experiences along the way.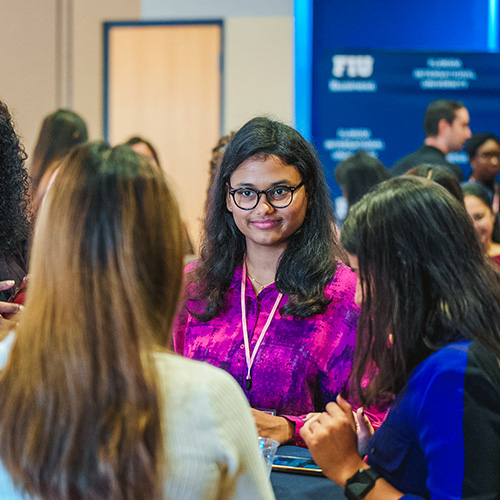 Networking & Mentorship
Pink Tank participants connect with C-suite executives, data scientists, business and financial analysts, project managers, IT directors and other subject matter experts, through a series of mentorship sessions aimed at developing key leadership skills and mindsets needed to advance in the STEM field. Mentors offer career development guidance, coaching and motivation, while also supporting the students in their research and data analysis as they prepare for a final presentation challenge.
The mentors known as "The Pink Cabinet' structured sessions to center around:
Career goal setting/personal reflection activities
Advising students on their own career path
Connecting students with professional contacts/opportunities
Providing resources and support as student teams prepare for the final challenge
Offering feedback on mini-deliverable assignments and activities
Coaching and encouraging professional/personal growth and development
Awards & Scholarships
All Pink Tank participants receive a $750 stipend to aid in their research and project activities. Tuition scholarships of $500 - $1,000 are also awarded to the individual members of the top performing teams in the final presentation challenge.