BankUnited Partnership

Through BankUnited's exclusive partnership with FIU Business, the ATOM Pink Tank program will change the future of the female student perspective on what is possible with a career in STEM!
This esteemed partnership represents a robust popup student initiative through the Pink Tank, that engages FIU students in STEM. Through a series of roundtable discussions, a mini-challenges, and leadership events students receive hands on experience from BankUnited executives, showcase their knowledge, and pave a path for other young women in our community.
Thank you to the BankUnited Leadership Team for pioneering such a powerful initiative!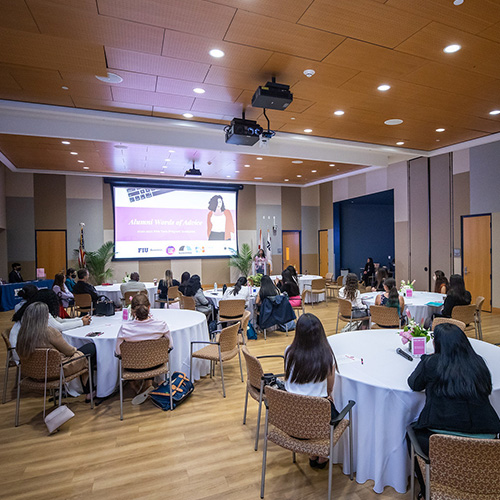 BankUnited Leadership Team
Lisa Shim
SEVP, Head of Consumer and Small Business Banking
Jackie Bravo
SVP, Tax Director
ICARE Council Member
Angelica Coronel
VP, iCARE Program Manager
Francesca Rivera
iCare Program Coordinator
Yelena Siroklin
Tax & Insurance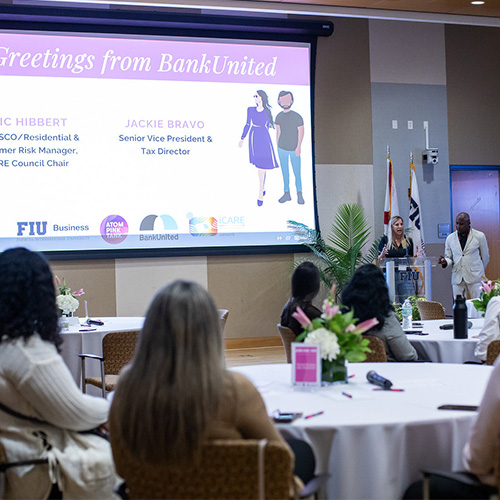 BankUnited Mentors "The Pink Cabinet"
The ATOM Pink Tank group of mentors known as the "Pink Cabinet" comprises senior-level women STEM executives from BankUnited, who are working to strengthen leadership skills among the students, shaping them into future leading women in STEM! The Pink Cabinet offers career development guidance, coaching, and motivation, and support to the student's research and data analysis in preparation for their presentations and challenge assignments.
Mentorship sessions focus on:
Career goal setting/personal reflection activities
Advising students on their own career path
Connecting students with professional contacts/opportunities
Providing resources and support as student teams prepare for the final challenge
Offering feedback on mini-deliverable assignments and activities
Coaching and encouraging professional/personal growth and development