Why is it that STEM fields, particularly engineering and computer science, are dominated by men? What concrete steps can be taken to encourage women to pursue and enter STEM fields, pushing away roadblocks whenever possible?
That was the challenge presented to FIU students through the ATOM Pink Tank, a program created by FIU Business Department of Information Systems and Business Analytics (ISBA). With the support of mentors from Pink Tank sponsor BankUnited -- many of them FIU Business alumni – female students sharpened their data analytics skills, uncovered data, and came up with creative solutions designed to have a lasting impact.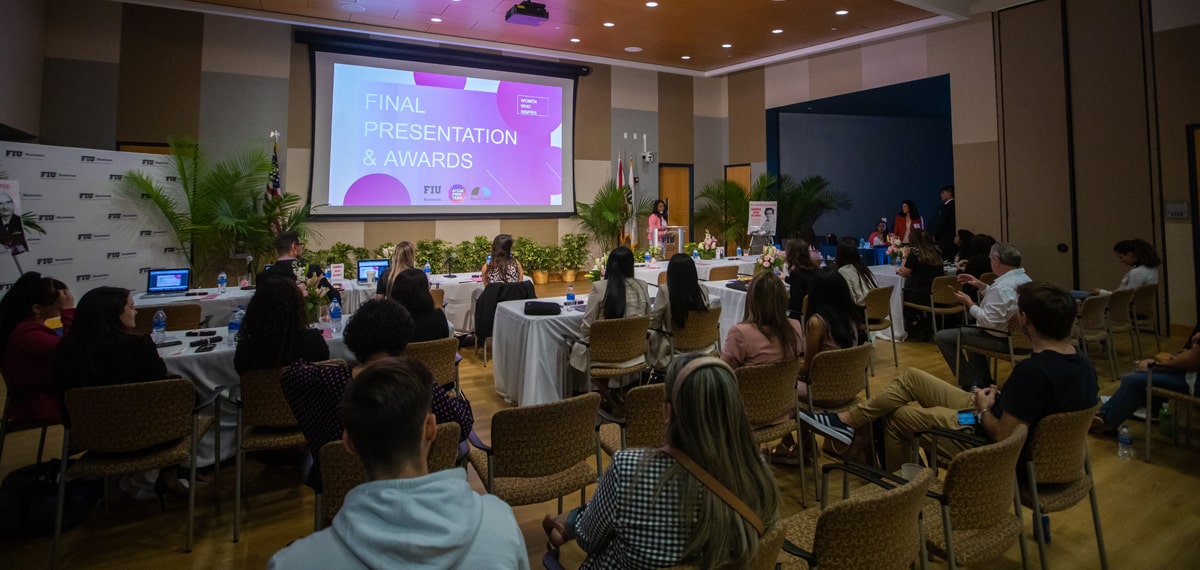 The Pink Tank process.
Starting in November 2021, teams of students were given data and tools, and tasked with identifying discrepancies between male and female hiring in STEM professions and providing concrete solutions. The competition was held live in April 2022, with BankUnited representatives serving as judges.
The students were charged with examining three sets of data: high school students, college level students in the U.S., and data specific to FIU. They were challenged to share insights and make proposals to facilitate more participation and success for women in STEM areas.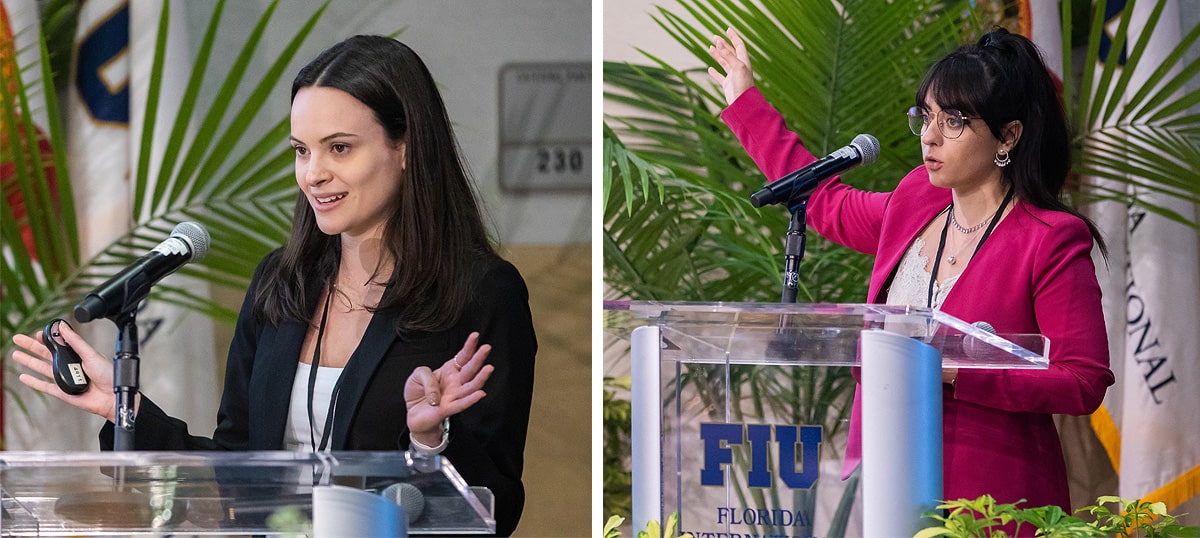 More role models and drones, fewer Barbies.
With an estimated 80% of jobs in the next decade requiring math and science skills, according to the National Science Foundation, encouraging women is more than an equity issue – it's a corporate and business community necessity.
In their presentations, the teams documented low participation rates in most STEM professions with the exception of healthcare. Some of the factors dampening participation: girls are discouraged from taking math and science courses at a young age and lack exposure to experienced female mentors. Girls describe themselves as bad at math, with lower enrollment in STEM degree programs in South Florida colleges.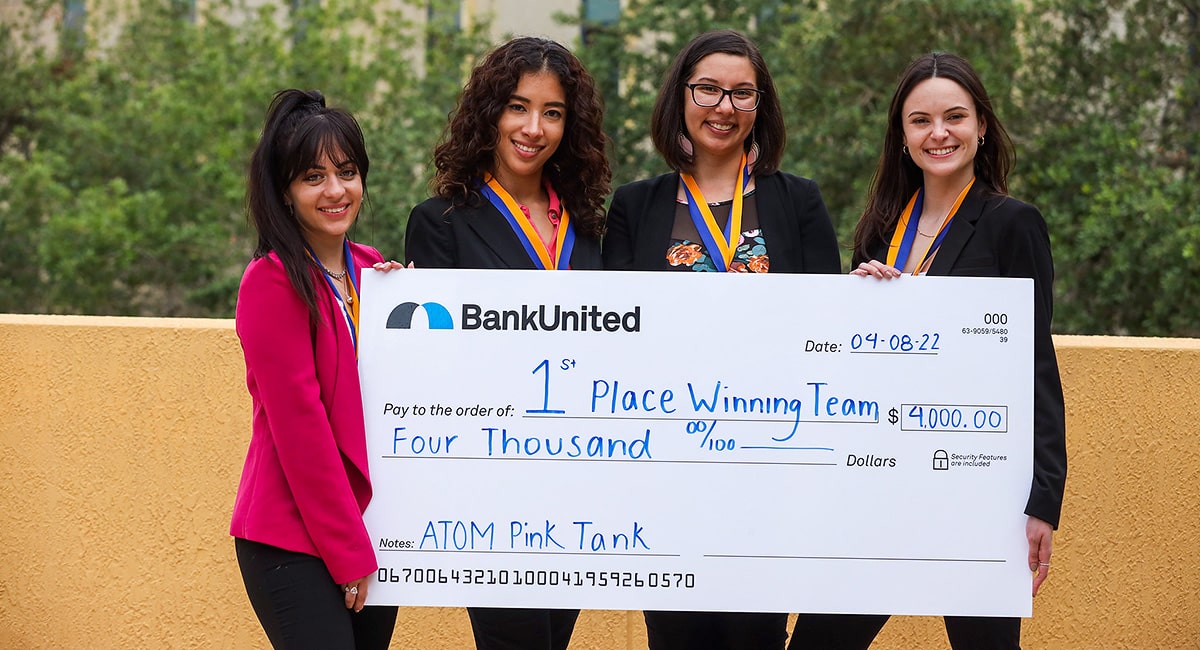 First place team Loud N Cloud (l. to r.) Anais Dardinier, Laura Borrero, Tatiana Summerall, Victoria Chomorro
Among the dozens of creative solutions: exposing young girls to toys that build engineering skills to develop early interest in engineering and confidence in problem solving, and scholarships in STEM fields for girls and more women's STEM organizations.
The teams also presented solutions using websites and social media to create support and community for young women interested in STEM. Through these apps, females as young as middle school could be targeted with resources for education, mentoring, networking and professional opportunities.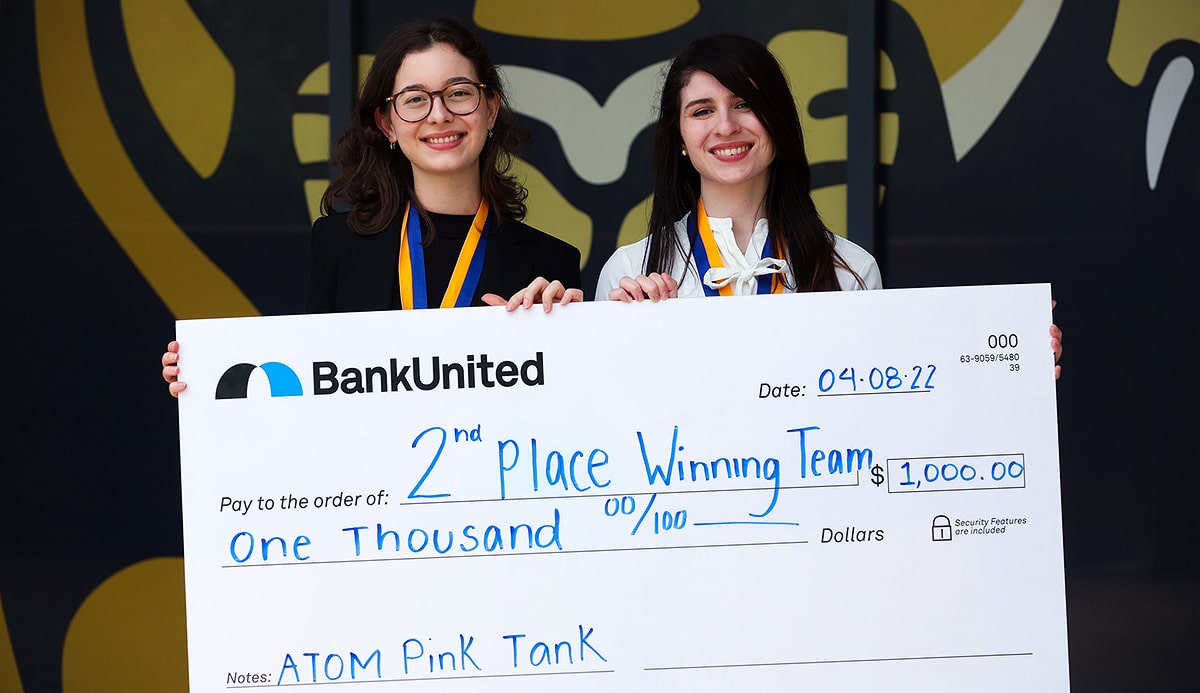 Second place team The Data Girls (l. to r.) Mariana Santos, Laure-Elise Guis)
The winning team, Loud N Cloud (Anais Dardinier, Laura Borrero, Victoria Chomorro and Tatiana Summerall), also represented FIU in the Association of Information Sciences national competition and placed third. The challenge's second place team, the Data Girls (Laure-Elise Guis and Mariana Santos), went on to win the ATOM AIS Analytics Challenge later in the month.
Event photos
---