David Garcia, who serves as president of the FIU Business Beta Gamma Sigma chapter (BGS) and Dean's Student Advisory Board, has received FIU's Outstanding Senior Award for 2021. The recognition is one of only four honors bestowed by the university on seniors who exhibit exemplary qualities of leadership and teamwork and a distinguished record of campus involvement.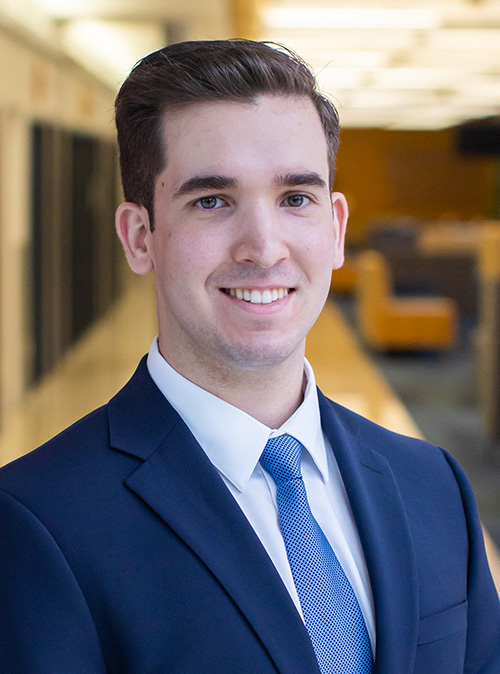 In addition to serving as president of the two FIU Business organizations, Garcia serves as a peer mentor in the Honors College, and is a member of Phi Kappa Phi, Omicron Delta Kappa, Tau Sigma and The Golden Key Honor Society.
Garcia, 22, came to FIU in fall 2019 for his final two years of college and immersed himself in service. By the end of his first year, he had risen to leadership positions in both BGS, the prestigious international honor society, and the dean's advisory board. He had hoped to spend his senior year at FIU engaging fellow students in on-campus activities.
But the pandemic brought a new set of realities. Many students isolated, backing away from college life. Yet that didn't stop Garcia's efforts. In fact, it propelled him into leading two key FIU Business initiatives that brought students and faculty together in the spirit of community, mental health and racial justice.
As life went virtual, "it was very easy to lose motivation, to be discouraged, during the never-ending days of logging on to Zoom and facing issues in doing things as simple as going to the grocery store," Garcia said. His experiences in student leadership during the pandemic "taught me patience and perseverance, helping people see the big picture and play the long game."
One of his proudest moments came in the summer, as racial justice movements rocked the nation. Garcia was approached by Dean Joanne Li to lead the Dean's Student Advisory Board in organizing the Conversations on Race and Equity, featuring students and staff in frank discussions on their experiences at FIU. He credits Donald Roomes, teaching professor and director of student success initiatives, with helping him lead the series, which was cited as an important step in bringing a more equitable, compassionate environment to the college.
Garcia was also instrumental in leading a second pandemic-era initiative, the Brave Zone, a virtual discussion series for business students led by Robert Stempel College of Public Health and Social Work faculty member Sofia Fernandez. The series allowed students to bring their challenges to a safe, virtual discussion.
His experiences have taught Garcia important lessons.
"What I learned is you have to keep going," he said. "On the other side of that challenge is a lot of fulfillment, and a feeling of accomplishment."
After graduation, Garcia will continue his work as a legal assistant at a corporate immigration law firm, and plans to start law school in fall 2022.