Student Support
Not only are FIU Business students diverse and multilingual - an important characteristic for next-generation business leaders, they bring with them a unique work ethic, and many successfully balance multiple demands on their time.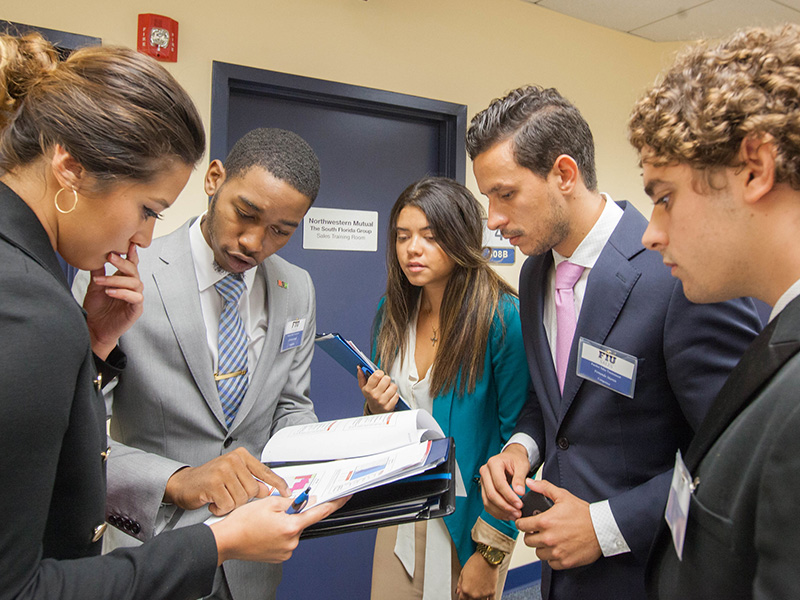 Through the Next Horizon campaign, we will help these hardworking students. We aim to establish more endowed scholarships to attract top students, help meet financial needs, and support students who seek to study abroad. Student support will enable more undergraduates to take part in international business experiences and cultural immersion, critical in a global economy.

You can help give more of our students the opportunity to realize their potential. Your investment in scholarships will enable tomorrow's bold thinkers to focus on their studies, while study abroad will allow them to gain a vital global perspective.
Faculty Support
FIU Business is home to more than 150 faculty members who are leading scholars and industry experts. They offer a wealth of research and teaching experiences, established networks, and practical business savvy. Their work—and success—are the most critical factors in advancing the national and global reputation of the College.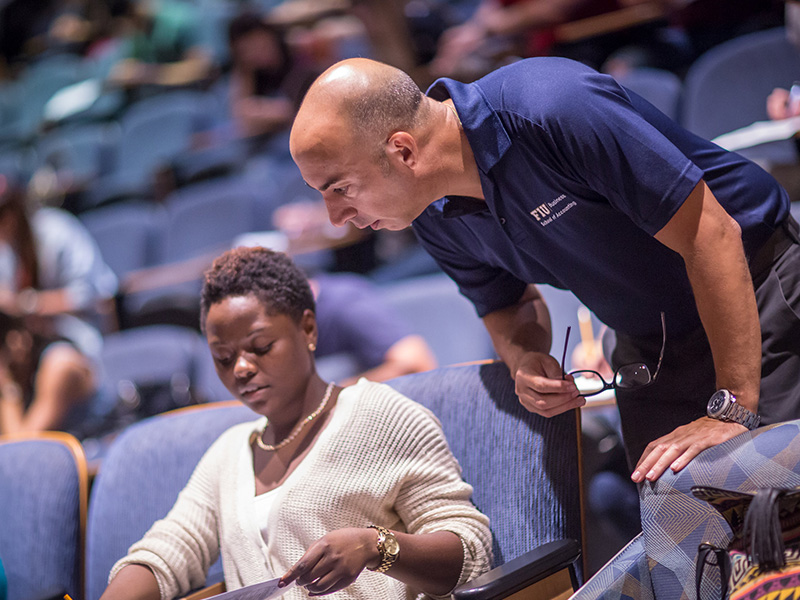 Yet with more than 10,000 students, our faculty count is well below that of our benchmark accredited schools. In addition, the competition for the best business faculty is fierce. To support the growth of the College and provide quality education, we need more faculty. To continue to attract and retain globally recognized scholars, we must create endowed faculty chairs and professorships and raise funds for faculty to pursue next-level innovation. These efforts will enhance FIU Business's rankings as well as worldwide recognition and respect for our degree. Students will benefit from learning from top faculty, and businesses will gain from the insight and expertise that produces relevant industry intelligence—a must for growing enterprises.
Strategic Fund for Innovation and Engagement
To meet market demand for innovators and to leverage our assets as a solution-provider, FIU Business seeks industry partners to launch an Innovation Hub. The Hub will house an open, collaborative university-industry think tank, where industry brings its problems and challenges, and FIU activates more than 57,000 student and faculty minds across colleges and disciplines to solve them.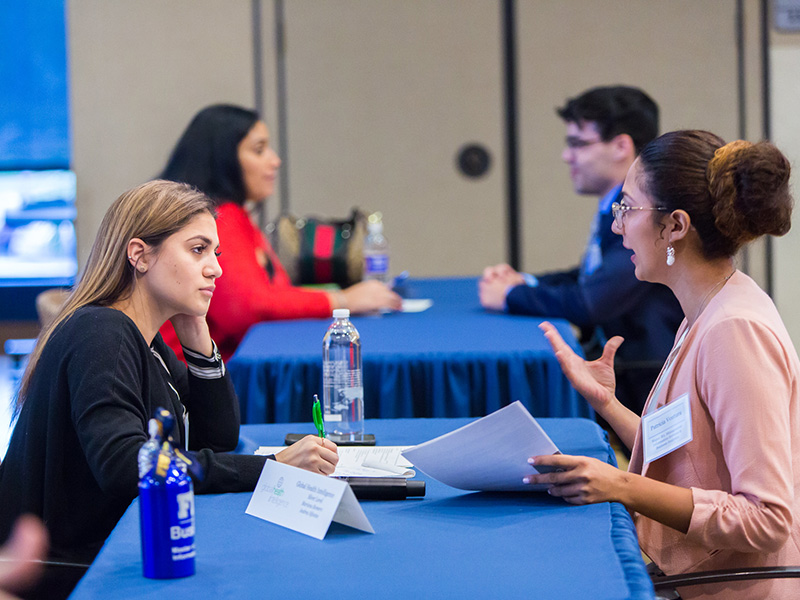 The Hub will include an Innovator Program for students, an apprentice-inspired mentoring model with extracurricular Innovation Core training and individual and collaborative industry experiences. The Innovation Core will expose students to topics and experiences in design thinking, entrepreneurial strategy, venture acceleration, blockchain in business, Internet of Things, cybersecurity, and data analytics.
Industry partners who invest in the Innovation Hub will have offices on site to mentor and engage with students. Campaign investments in a strategic fund will fuel our vision for an out-of-the-box extra curriculum and hub for academy-industry engagement.
Centers and Institutes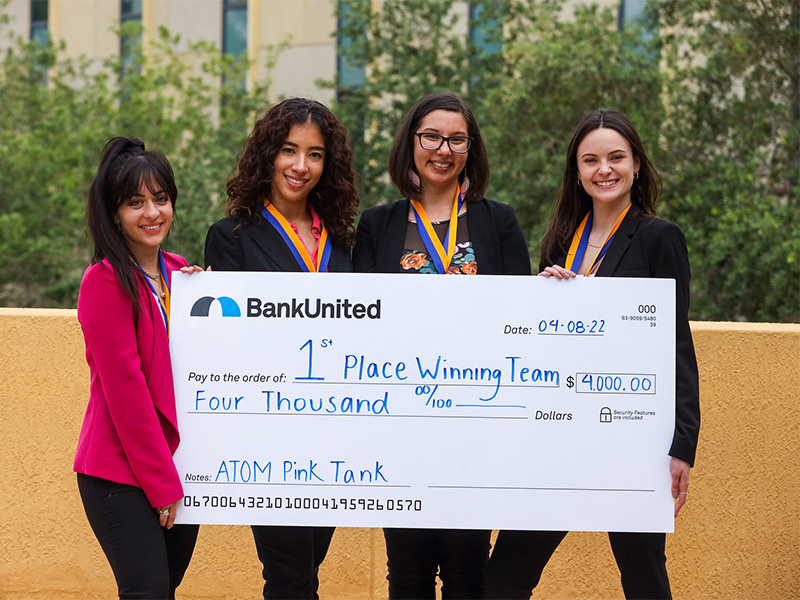 FIU Business has identified hot specialty tracks and skillsets that will both meet business needs in growth fields and ignite our graduates' prospects—whether for promising employment or starting their own businesses. These high-demand niche areas include blockchain technology, emerging markets, family business, banking, global sales, and digital/branding analytics.
We have a head start in some of these areas. Through the ATOM (Analytics, Technology, and Operations Management) Think Tank, information systems and business analytics faculty and students are already consulting with organizations. In the Global Sales Lab, undergraduate and graduate students hone their skills in a simulated sales office setting. Through philanthropic investments, we will take these successful programs to the next level.
Your support through the campaign will help accelerate this work and launch brand-new initiatives in areas that will give FIU Business, and its students and partners, the competitive edge.
Facilities and Technology
An outstanding business education needs to exploit new technologies—the same technologies students will encounter in the workplace. We need support for students to become adept with the technology used for data analytics and financial services.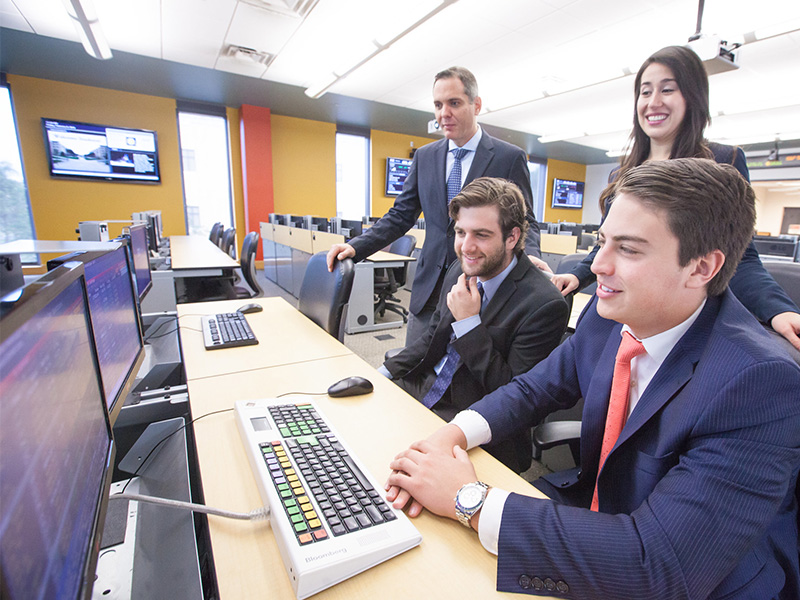 Well-equipped labs, classrooms and case rooms will ensure that students graduating from FIU Business can compete successfully in fast-growing, high-demand sectors of the economy. Your support through the campaign can give our students access to the state-of-the-art tools, classrooms, and lab settings that create an optimal learning environment and expand their after-college job opportunities.