By Michelle Lopez and Cynthia Corz
Changemakers, innovators and experts from various fields gathered at the World Happiness Fest, drawing hundreds of participants from across the globe to learn about the intersection of peace and happiness.
Themed "Building new Narratives to Rising" the event featured panels, roundtable discussions and physical activations to inspire business leaders, life coaches and others to spark happiness in their work and their life.
"We're bringing people together to meet, share ideas, connect and be inspired, " said Sungu Armagan, associate teaching professor of global leadership and management at FIU Business and one of the event's organizers. "All of us have the opportunity to do something really special."
The three-day World Happiness Fest kicked off March 25 at the FIU Biscayne Bay Campus. Over 111 FIU faculty and staff from 12 university units shared their insight and tools for change or improvement.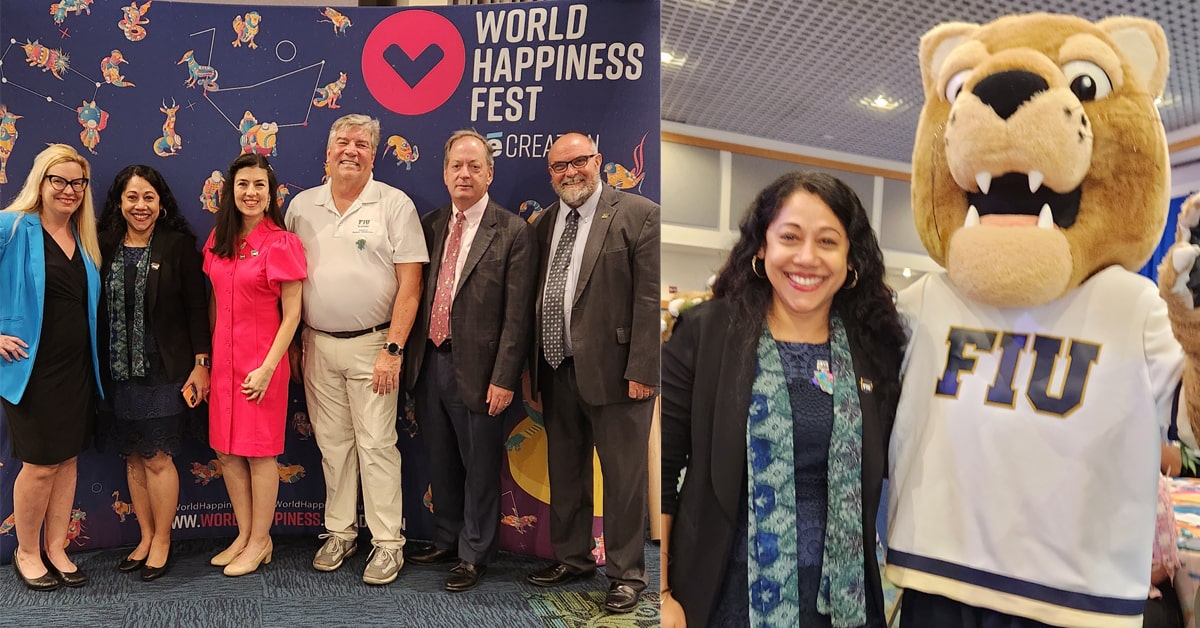 "The Biscayne Campus exudes peace and happiness," FIU President Kenneth Jessell said in welcoming participants on opening day. "We cannot be more proud to encourage and support wellness and happiness among FIU students, staff, faculty and the community."
The format for the series of events required active participation. Each day began with a series of rapid roundtable sessions on discussing the role of happiness in topics including blockchain, Web3 and sustainability, with participants moving to a new table and topic every 15 minutes at the sound of a gong.
Isabel Alfonsin-Vittoria, director, Office of Employee Assistance at FIU, brought her expertise in mindfulness to her roundtable "The Mindful Leader," which she says is one of the most requested topics.
"Mindfulness has merged into the business world. It's been studied for almost 35 years now," said Alfonsin-Vittoria. "If you don't manage your mind, you won't get it to perform."
At the "Bringing Joy Into The Workplace" roundtable, Marc Weinstein, clinical professor of global leadership and management at FIU Business, brought his perspective on the notion of bad bosses.
"People make assumptions about their managers. Most of them don't have good training," said Weinstein.
He added that it's important to create a space for two-way conversations and "constructive confrontation," training individuals to disagree constructively, instead of punishing people for having an opposing opinion.
Longer, in-depth discussions took shape at panels held after lunch each of the three days.
During the "Social Media and Technology: The Art of Building Conversations & Community" panel, moderated by Nancy Richmond, associate teaching professor of marketing at FIU Business and one of the event organizers, participants led the conversation questioning their possible addiction to social media.
"Belonging is a central part of the human condition," said Richmond, adding that it's important to be mindful to also connect in person. "Use technology to spark joy. This conference would not have happened without LinkedIn."
As issues of financial stability increase stress levels for many, Deanne Butchey, teaching professor of finance at FIU Business, moderated the "Peace of Mind through Financial Security" panel. Experts shared suggestions to increase savings, control spending and improve financial security.
"It's incredibly difficult to focus on anything else without being secure," said Chanel Rowe, managing partner at Uriel Law. "It frees up your mind when you're not stressed about where your next meal or next mortgage payment is coming from."
Looking at the future, Christy Sjoblom, financial advisor at Pillar Wealth, highlighted two words as key for financial wellness: self-control.
"You need self-control, as a business owner or an individual to get to a higher level of self- actualization," she said. "To have the means to be able to move from a small house to that four-bedroom house; to leave your job and become an entrepreneur; to travel."
Aside from panels and roundtables, participants were able to enjoy yoga, Zumba, kayaking, a boat tour of Biscayne Bay and even a forest bathing walk along the natural preserves on campus.
"Happiness is in us; we need somebody to guide us to get the ink out. That's why we do World Happiness Fest," said Luis Gallardo, founder of the World Happiness Foundation. "The only thing we ask of all the participants is that you make a connection."