Hosted at FIU Business, Isabella Casillas Guzman, administrator of the U.S. Small Business Administration (SBA), met in July with South Florida small business owners who shared their challenges and offered suggestions on how the organization can improve opportunities for growth.
"It's important to be at an institution of higher learning to help small businesses at a time when we see incredible recovery from the [COVID-19] pandemic," said Casillas. "We have to step up and make sure small businesses survive and thrive."
Luis Contreras, CEO of AMEPower, an industry-leading technology company in the transportation and renewable energy sectors, pointed out that the lack of access to resources from the U.S. Department of Energy (DOE) is impacting his business.
"That is an opportunity for improvement, for small businesses to get DOE contracts," said Contreras, who was named this year's Florida and South Florida Small Business Person of the Year by the SBA.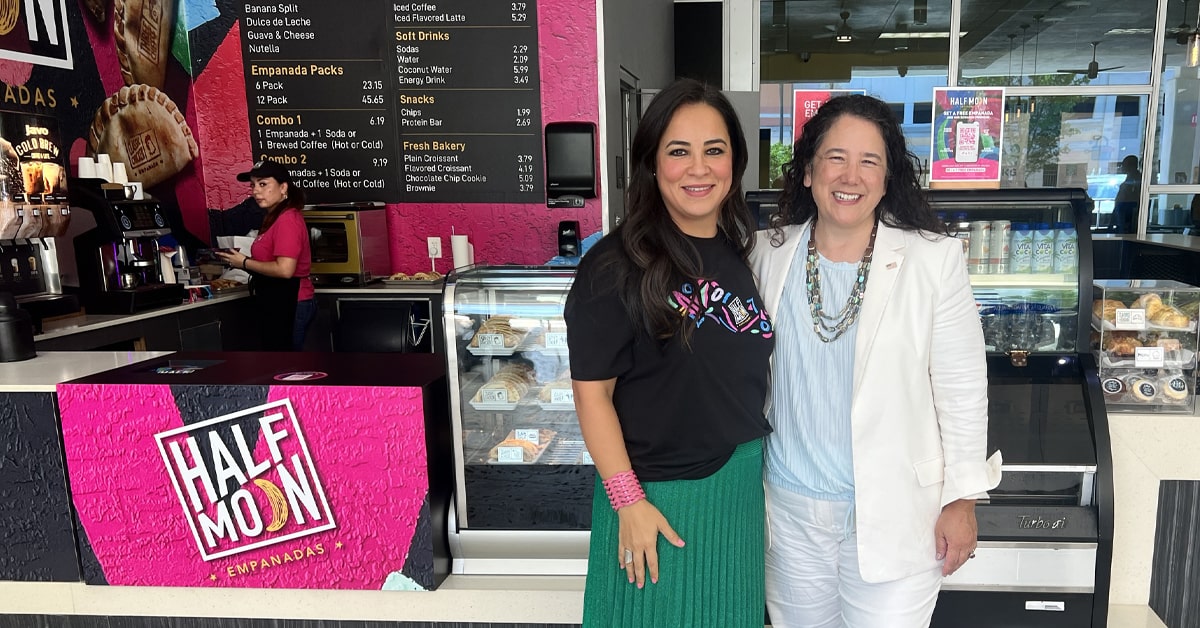 Pilar Guzman Zavala, owner of Half Moon Empanadas, with Isabella Casillas Guzman, administrator of the SBA
 
During the roundtable, Casillas noted that the SBA's focus is on funding growth opportunities for small businesses, increasing options so banks can use reforms for affordable capital connecting small businesses. Currently, two-thirds of these businesses don't receive enough capital or none at all.
She added that the "Power of the Federal Purse" program has committed to awarding $2.5 billion in federal contracts to small businesses. Other programs will make $2.7 billion available in various forms of funding.
As part of the event, Casillas and former Florida Congressman Ted Deutch, CEO of American Jewish Committee, signed a partnership strategy designed to combat antisemitism and other forms of hate affecting local small business owners and communities.
"Hate and discrimination have no place on Main Street," said Casillas.
Deutch highlighted the importance of this partnership with the SBA as a model for a whole-of-society approach. "Small business owners are vital pillars of their community who should not have to endure vandalism and intimidation because of who they are or the customers they serve," he said.
We look forward to working with the SBA on this important initiative that will be a model for how we can take a whole-of-society approach to fight antisemitism."
Casillas shared lunch with Pilar Guzman Zavala, owner of Half Moon Empanadas, whose business thrived with assistance from the Florida Small Business Development Center (FSBDC) at FIU Business, and now has 20 locations.
"The government understanding that protecting and supporting minority people is the reason why I was able to turn around my business," said Guzman. "They [FSBDC] have been really important in a mentorship space for me. I was stuck with my second PPP, they helped for the approval and then the forgiveness… I couldn't get it done without them."