It's no secret that the way companies work is rapidly changing. In a post COVID-19 world, businesses have had to shift their approaches to resolve new and old concerns and meet the needs of both customers and employees.
As the largest private employer in Miami-Dade County, Baptist Health turned to FIU Business to deliver its Baptist Health Leadership Experience Program, marking the first time they have partnered to activate a customized leadership training program.
Launched in May 2022 and meeting once a month for eight all-day sessions, 35 seasoned Baptist Health leaders from Palm Beach, Broward and Miami Dade Counties explored some of the most pressing and complex issues facing the healthcare industry.
"The biggest thing that I got out of it was the connectivity that we established as a team," said Carol Bonacossa, director, physician communications at Baptist Health. "I met people I didn't know, who are A-plus employees who now have become resources in my network."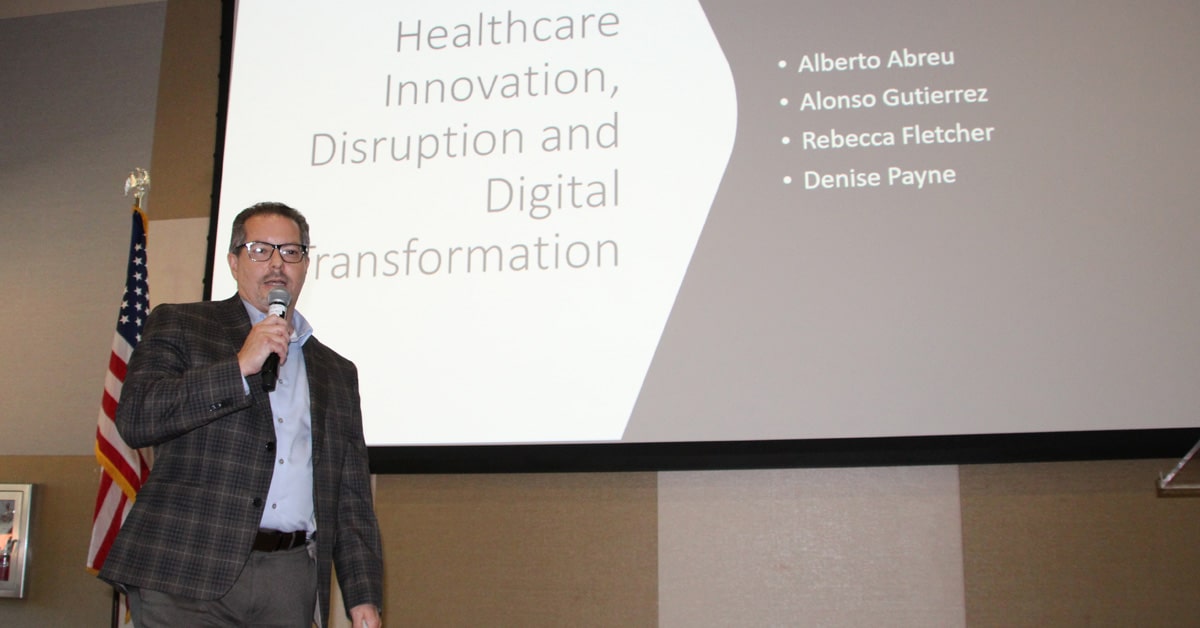 From the great resignation to critical topics including disruption and digital transformation, organizational change, innovative leadership, strategic planning, health inequities, financial management for healthcare organizations and customer loyalty, no stone was left unturned.
On the agenda for the final workshop February 24, 2023 were the importance of crisis leadership, proper training in emergency management and awareness of burnout and the mental health impacts of chronic moral distress experienced during the pandemic.
"Crisis leadership is about bringing people into an uncertain future with hope and confidence. It requires the ability to anticipate what is likely to come next despite ambiguity," said Attila Hertelendy associate teaching professor of information systems and business analytics at FIU Business. "Emergency and disaster management needs to be taught as a core competency to equip healthcare and business leaders to successfully mitigate future crisis."
As participants reflected on what they learned in their final workshop, it became clear the toll of working during the pandemic was felt by many, even those not directly working the front lines.
"I was not working in a clinical role, I was in supplies," said Christine Kicker, director, supply chain management at Baptist Health. "While many worried about getting patients out of the hospital, we had to determine if we could even buy oxygen for our patients."
The room became flooded with emotion, but the experience was a valuable learning lesson.
"We now have set ourselves up so that we can pinpoint where our commodities are, and know with certainty how many days we have on hand and how many people need it," said Kicker. "We have videos now on our training module system, to show people how to step in and take over."
To close out the program, each team of the participating leaders made final presentations and, while topics varied, the solutions often shared common threads including the importance of open and transparent communication, embracing technology such as AI and supporting the mental health of staff at all levels.
"Leadership development opportunities, such as this program, provide big picture context about our industry and its challenges," said Ana Lopez-Blazquez, chief strategy and transformation officer at the organization.. "The strong connections made through this program and the lessons learned will serve each participant well as they go forward in their careers."
A graduation ceremony was held at FIU Business for the participants following the final presentations.