Congratulations to FIU Business real estate students Fredrik Alexander Diederichs, Mikael Roussel, Adam Helmker, Kianosh Kremer, and Zeke Sonnier, CPA for winning 4th place in the 2023 ARGUS University Challenge, the prestigious international real estate case competition. The FIU Business team came in just behind a team from the University of Chicago.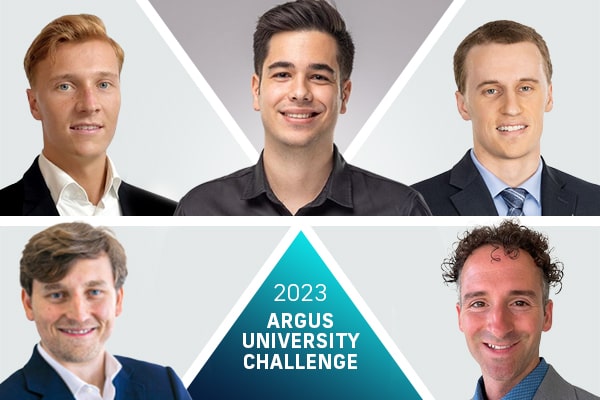 "The ARGUS University Challenge attracts the world's leading real estate programs and gave us the opportunity to test our knowledge through the analysis of a complex real estate acquisition in Houston, Texas," said Adam Helmker, who was part of the FIU Business team. "This was an incredible opportunity to work together as a team outside of the classroom to showcase the skills we have learned at FIU in a professional setting. Historically, FIU has performed well in this competition, and we are delighted to continue the tradition of this program's success in this annual competition."
This year, teams were asked to play the role of an acquisition team for a National Real Estate Investment Trust (REIT), with the aim of evaluating and modeling a potential purchase of a completed but unleased project using ARGUS Enterprise. The asset was the former Houston Astrodome, also called the Eighth Wonder of the World. The teams had to examine the data of the Astrodome and come up with the best plan considering market research into the local submarket, adaptive reuse plans and DEI requirements.
George Wu, real estate professor at FIU Business, was the team's faculty advisor.