The art of closing the deal was put on display at the FIU Business 2023 Global Bilingual Sales Competition as over 30 students from 11 universities showed off their sales pitches in English, Spanish and Bilingual categories.
The challenge for contestants in the two-day event was to use role-playing techniques to sell buyers the HubSpot suite of solutions, including customer relations management (CRM) software and services.
"This the only competition that we know of, that is in English and Spanish," said Nicolo Alaimo, assistant teaching professor of marketing and logistics. He is also co-director of the FIU Business Global Sales Lab.
Each student had 15 minutes to make the pitch in their language of choice, as judges watched via live streams. In the final competition, the top three sellers from the English and Spanish tracks had to close a bilingual sale in 15 minutes.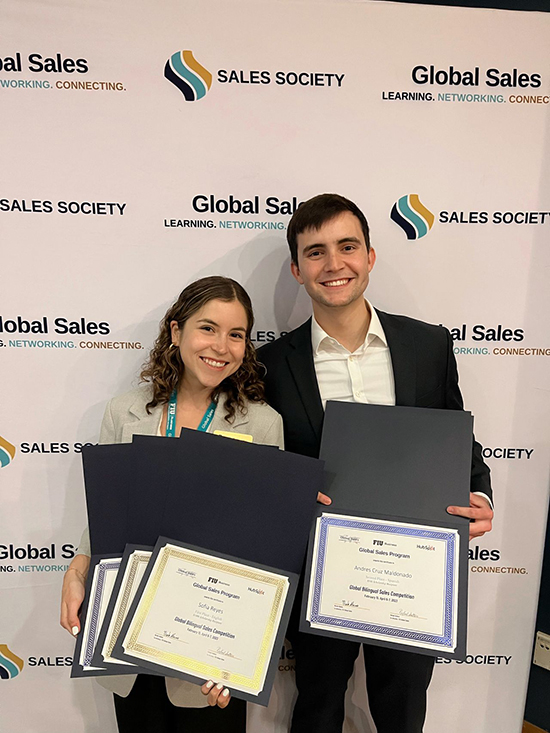 Sofia Reyes with David Claramunt, from Florida State University, winner of the Spanish-language round
Sofia Reyes, from Baylor University, won best overall and $2,500, after beating the other students in both the English-language and bilingual competitions. David Claramunt, from Florida State University, won the Spanish-language round. The FIU track winners were Daniela Riancho in Spanish and Mia Melo in English.
"The experience has been great," said Maria José Boza, a student at Universidad Peruana de Ciencias Aplicadas. "I didn't know anything about digital marketing, so I really started learning about CRM, and learning about client relations, how to ask questions, to interview clients and how to present the products."
The annual FIU Business event has inspired previous contestants to return as judges, eager to encourage current students on their journeys.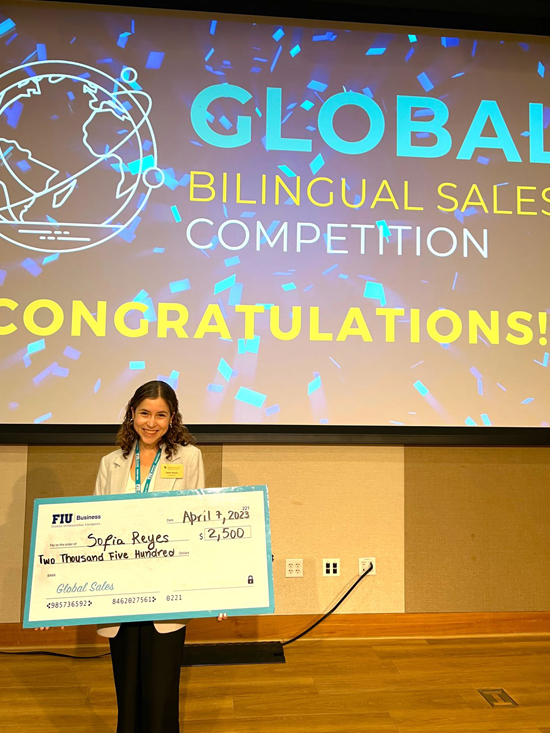 Sofia Reyes from Baylor University won best overall and a $2,500 check
"This competition helped me land my current job," said Christopher Tapanes (BBA '22), the 2022 winner. "This is such a formative experience for anyone going into sales."
Now a territory manager at Eli Lilly, Tapanes was recruited at the 2022 competition. Representatives from several companies focused on recruiting potential employees from this year's pool of competitors.
"This is a place where we can seek talent and from what we've seen so far there is a lot of talent," said Jose Diaz, director of supplier management at Breakthru Beverage. "We've hired a few that have been successful and that understand the art of selling."
After pitching to buyers, the students competed in the most important sell of all -themselves. Each had 60 seconds to make an elevator pitch to a room full of judges and receive immediate feedback.
"Hurt my feelings, tell me what I did wrong," said Armand Derrick (BA '22), after his pitch. The judges laughed, and one said, "now we are meeting the real you."
Aside from composure and charisma, the judges reminded students to highlight their strengths, whether it's their personality, their skill set or previous work experience.
"If you can get the audience's attention by using whatever tactics you use; obviously you have a great sense of humor, own that," said Chrissy Damasco, senior recruiter at HubSpot. "The confidence will come naturally."
Other participating schools included Northern Illinois University, California State University Chico, Marian University, University of Central Florida and Arizona State University.