Vision. Expertise. Tenacity. Hard work. Perseverance. Teamwork. Resilience. These are ingredients of a successful small business.
AmePower, an industry-leading technology company in the transportation and renewable energy sectors, is a success story.
The Miami small business's CEO, Luis Contreras, and president, Karina Doracio, were honored in Washington D.C. as the Florida and South Florida Small Business Person of the Year by the U.S. Small Business Administration during the National Small Business Week celebration.
President Joe Biden highlighted the company in his remarks at the April 30, 2023 ceremony and he and Vice President Kamala Harris met with the AmePower team after the speech.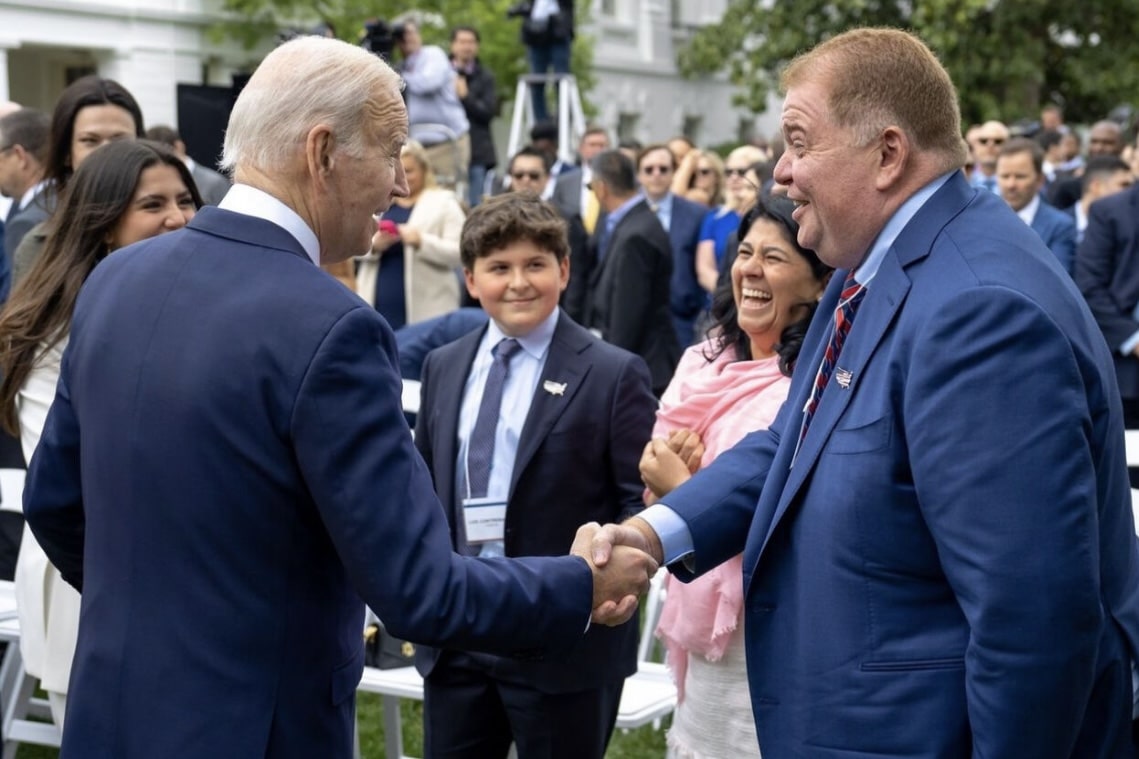 We can draw many lessons from this small business success story.
Doracio, originally from Argentina, and Contreras, from Venezuela, first met in an English class in Tennessee. A few years later, in 2002, they started AmePower, a distributor of power electronic components. This couple – partners in life as well as business – started this award-winning company just like many small businesses do: humbly. They worked from a desk in the bedroom with a single computer, the kitchen table was their distribution center, Doracio recalled.
As they grew AmePower over the next 20 years, this innovative company expanded into engineering, repairs, and then small retrofits and then large retrofits, and found a niche in the rail industry specializing in propulsion inverter technology.
Proudly manufacturing in the USA, AmePower makes converters, which are devices that change electrical energy from one form to another. With uses in everything from mass transit to renewable energy, this technology helps unlock the future of electrification and the decarbonization of our planet.
"It turns out that after these 20 years in the making, we have been building what we call the building blocks of the different areas of technology and now we are in a really good position for reducing emissions," said Contreras. "Technology that we have developed now is needed in order to get us there in terms of the electrification. Karina and I are able to help in this huge task, and that is the environmental change that has to be done."
Environmental and economic impact
So far, AmePower has mainly focused on transit authorities. Big ones AmePower works with are the LA Metro, New Jersey Transit, Boston's MBTA, as well as systems in Denver, Puerto Rico, and Calgary, Canada. And their vision doesn't stop there.
Indeed, one project they are working on is the decarbonization of diesel electric locomotives, which will produce a huge decrease in emissions. In a way, this innovative company is recycling legacy trains – a huge challenge for the rail industry – and making them green in the process.
The same tech know-how is applicable in a number of industries.
"The idea is to bring our know-how into renewables, solar, wind turbines and energy storage. The impact we can bring to the table there is pretty huge," Contreras said. "It's not so common to have this type of technology company based in Miami."
What's next for the company? EV chargers is a new market AmePower plans to enter, and one with exponential growth potential. "Renewables is an area where we can again bring value to the table for the community and also the economy," Contreras adds.
Today the company does design, prototyping, assembly and testing, all in-house in their Miami facility. "That has allowed us to bring to the U.S. several of these technologies that traditionally are being done in Europe and that translates into faster turnaround and design for customers — and more competitive prices," Contreras said.
And for the Miami economy, this successful company has brought job creation.
Today, AmePower, short for American Power and American Made Electronics, employs 53 people, mostly highly skilled engineers, Doracio said. That's up from 20 two years ago. What's more, just over two years ago, AmePower worked out of a facility of 11,000 square feet and now their state-of-the-art Miami facility is 42,000 square feet, she added.

An important ingredient of their success is their team. "Our employees are the heart of our company," Doracio said, and they treat their team well with the career development opportunities, the latest technology, ergonomic desks and a lounge area to relax. "People have to be comfortable in order to be more creative and this is one of our goals," she said. AmePower also runs active internship programs with several universities, including Florida International University.
Seeking help from SBDC at FIU is another key to success
The pandemic brought new, unforeseen challenges and for help with that, AmePower sought the assistance of the Florida Small Business Development Center (FSBDC) at FIU Business, which offers no-cost consulting to small businesses.
AmePower first sought the advice of FSBDC consultants starting in 2019. But during the pandemic, FSBDC consultants Ricardo Newark, with expertise in finance and business growth, and Shelly Bernal, who specializes in strategy and international business, in particular were key to helping AmePower weather the new challenges and stay on course.
Most notably, these consultants helped them apply for and receive PPP loans in 2020 and 2021 that kept their employees paid throughout the pandemic crisis.
That's not all. "On the accounting side, they have been able to teach us how to get our financials more in order, something that has been really helpful for us because as a small company, you don't always have the resources to be sure that you are doing things properly," Contreras said.
"We had worked with several agencies in the past and we have to say that the SBDC really goes the extra mile," he continued. "These guys are really hands-on and that is the major differentiator that they have. They have come to our facility, they sit down with us, they take the time to understand the situation and that's something that we haven't experienced before."
Getting nominated for these awards by FSBDC regional director Brian Van Hook was an honor, the couple said, and it has helped their business, too. Since the SBA awards were announced, Contreras and Doracio said they have been able to access several offices and government departments they hadn't been able to reach before.
What is their secret of success?
"It's the balance, it's how we complement each other," said Doracio. As president, Doracio oversees financial, administrative and HR and also manages legal contracts. Contreras, as CEO, oversees the sales department, the engineering team and the relationships with customers and vendors.
They also keep each other grounded, they said. Contreras has the big vision but Doracio is the one that says 'yeah, that's nice, but how can we do this today?'
Another key to success: Resilience. Even when something goes wrong, the lessons learned help the company grow. And for the hard times, they know they always have each other's support.
Doracio's advice to other entrepreneurs is this: "Always, always do the right thing. No matter if it is more expensive or takes a lot more time, do the right thing. I think that is the key because when we receive all the blessings, all the right results, it's because we did the right thing."