Is your company appropriate for venture capital investors?
Ricardo Weisz, a Florida SBDC at FIU consultant, knows a thing or two about this topic. He's been a business operator multiple times and has invested in dozens of startup companies over the years.
First you need to determine that your company is appropriate for VC investments. If it is instead a lifestyle business where your goal is to make enough to support a nice lifestyle for you and your family and perhaps pass the business down, that will not be of interest to an venture investor.
VC investors are looking for a high-growth companies with a big addressable market. The typical VC is interested in software-based companies and medical devices rather than hardware or ecommerce or construction.
If you have a high-growth company suitable for VC, know that fund-raising is a huge commitment.
"For the entrepreneur growing their company, the cycle of raising funding really does not stop. Investors do not give you funding for the lifetime of your company, they give you funding to get to the next level and then you need to raise additional funding," Weisz explained in a recent webinar for SBDC at FIU. Plan to devote 20-40 hours a week for many months to the fund-raising process.
Where do you start? Start meeting local angel groups, attend startup conferences and getting your documents in order for potential investor meetings.
Understand that VC investors' goal is to sell your company in 5-7 years, and ideally they want a 20X return on their investment. That's because of the high failure rate among startups.
"An investor knows not every company can achieve these results, but if they don't see that potential they will not be interested in investing in your company at all," Weisz said. And that is why your financial projections are so important.
For the fund-raising process, you need detailed financial projections, an investor deck, a pitch deck and an executive summary, in that order, Weisz said. Start with the financial projections first and work your way down the list. The breadth of thinking needed for the financial projections will help you down the line.
The deck, typically a power point presentation, serves the purpose of initiating a larger conversation with the investor. It's a summary and focused on the main areas of interest the investment has. A pitch deck is usually similar to the investor deck but smaller.
Decks should address these areas, Weisz said.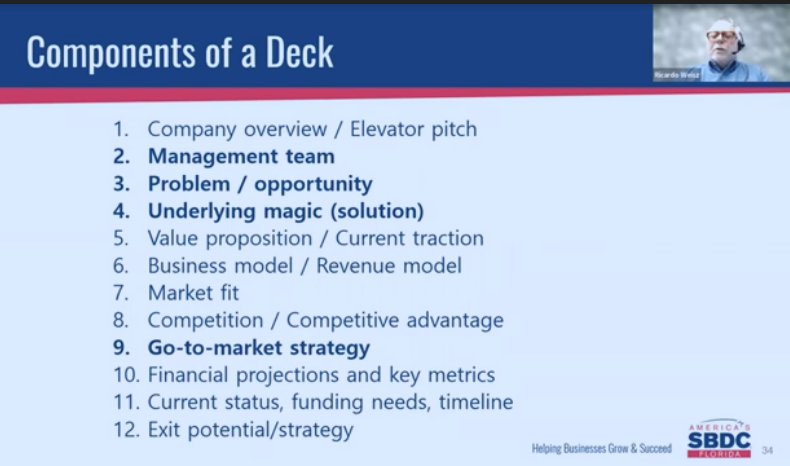 What is the investor thinking when he or she is hearing your presentation? "They want to know whether they would make money or not? Will your product scale? The biggest decision factor is the team – is the team strong and is it coachable? A lot of people underestimate the importance of a team," Weisz said.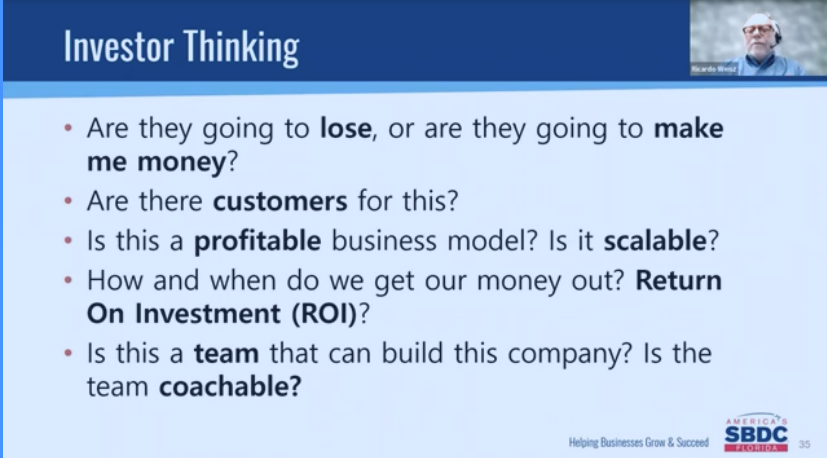 Again, Weisz said, you need to commit to 20-40 hours a week for fundraising, and it may take 50 to 75 presentations before you get the attention of an investor.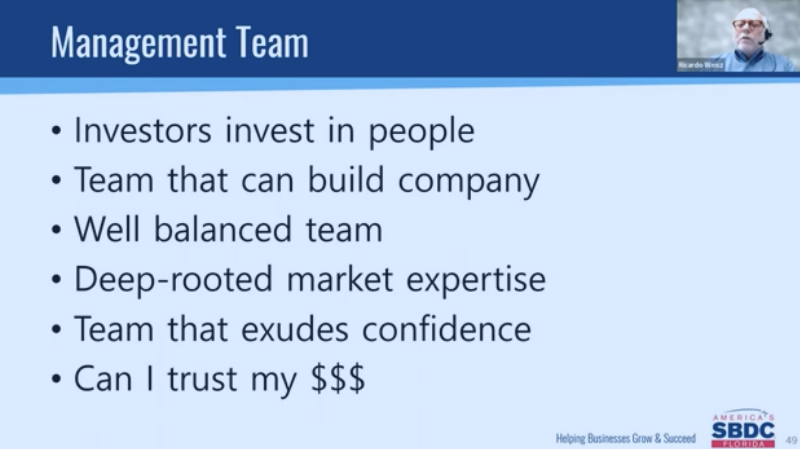 Here are a few more points to consider:
As an entrepreneur telling the story of your company, you need to have a good story to tell and tell it well.
Do not underestimate the need to have a very strong team. Typically that can consist of a co-founder who knows the market, another co-founder that is a the expert, and a third that brings strong industry expertise to your team.
Investors invest in people. It's really about your ability to execute.
If your financials don't speak the story, you are in trouble.
There is much more good advice in the webinar. Find it here.
Interested in another topic? For the whole library of Florida SBDC at FIU's recorded webinars, go here.