At Real Madrid, the No. 2 most valuable soccer team in the world, innovation is leading a transformation beyond the fútbol stadium. Its tech-intensive Real Madrid Next program, which aims to drive the advancement of the sports industry on a global scale, is gaining ground. The information was shared with FIU Business students, alumni, faculty and staff during a March talk.
The "Innovate the Innovation" presentation offered an in-depth look at Real Madrid Next, which will leverage technology such as artificial intelligence and big data to optimize the team's operations, create models related to ticketing, digital assets and merchandising, and expand the organization's business offerings.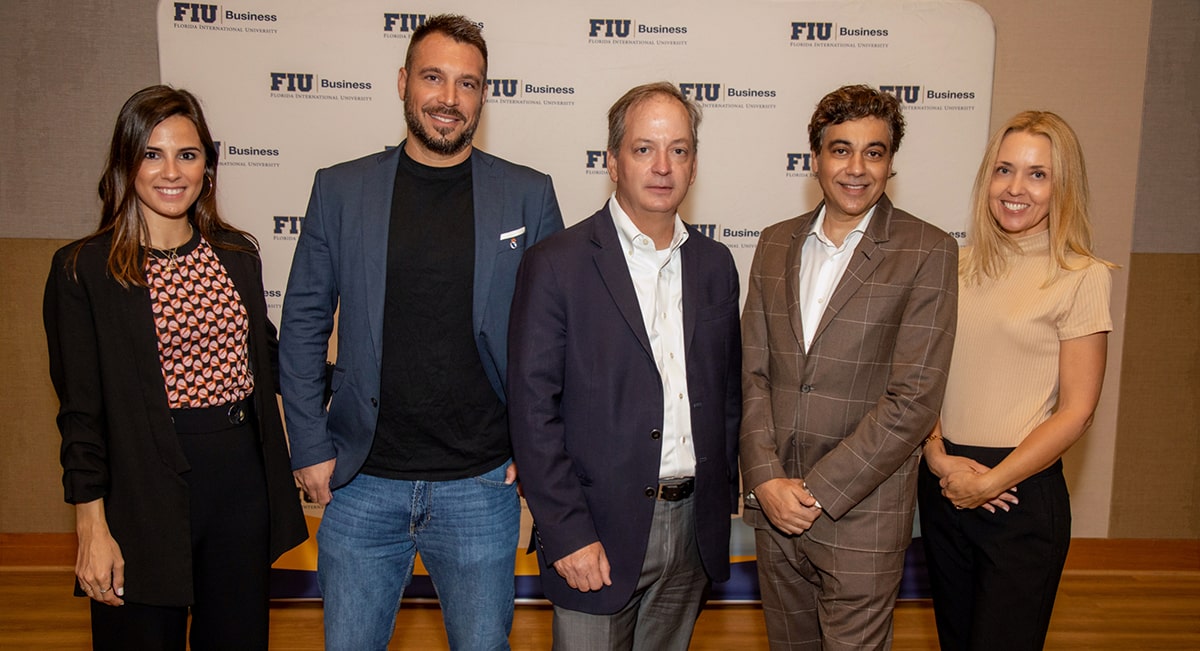 Laura Planells, Julien Piwowar, William Hardin, Deepak Ohri, Anna Pietraszek
Event moderator Deepak Ohri, executive in residence at FIU Business's Pino Global Entrepreneurship Center, noted that being innovative doesn't require creating something new, rather improving something that already exists.
He highlighted companies including Airbnb, Ikea, National Geographic and Nike as innovation leaders. "They developed new ways of standing out," said Ohri, CEO of lebua Hotels and Resorts. In the case of Real Madrid, he added, its leadership's efforts are focused on enhancing the experience for players, fans and other affiliates.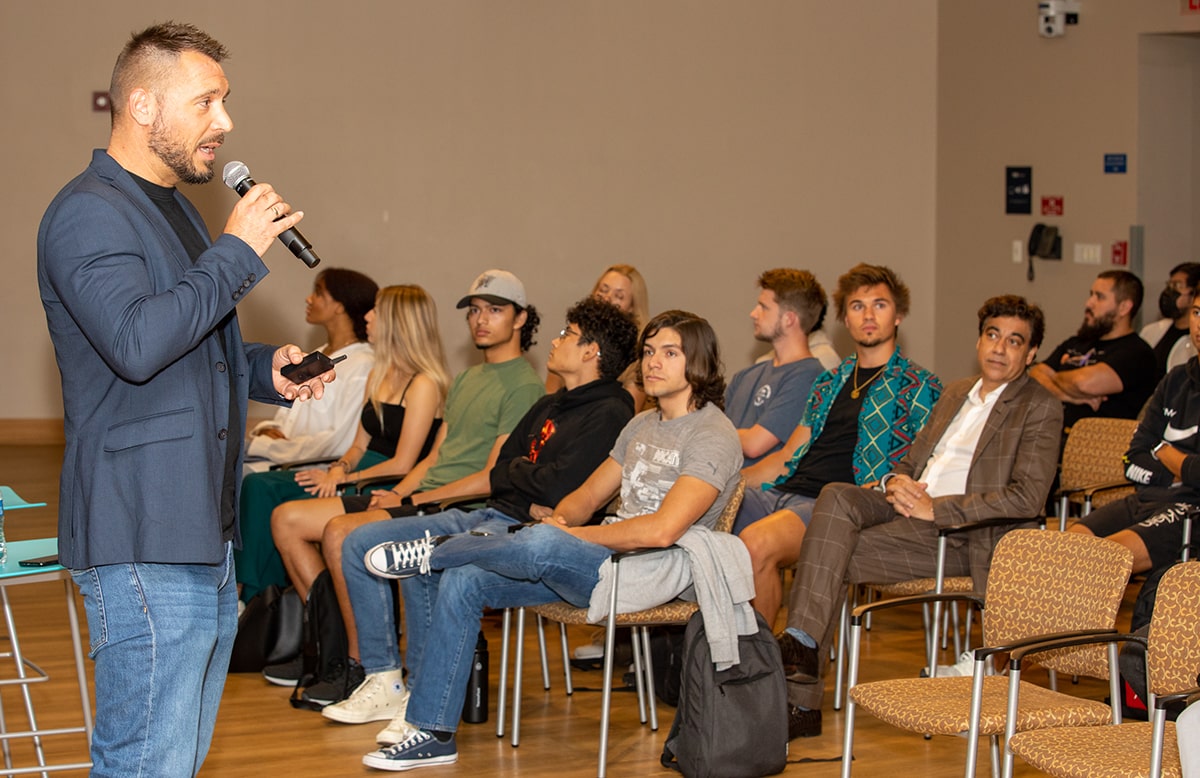 Julien Piwowar
Julien Piwowar, head of innovation at Real Madrid Next, explained in detail the soccer club's focus on innovation in various sectors – e-health, performance, fan engagement, audiovisual content, cybersecurity and technology, and social media.
"The objective is that everything we have now in the early stages can be expanded and used by other teams, other entities," Piwowar said of the initiatives that are now in development or being tested. "Our innovation will extend worldwide."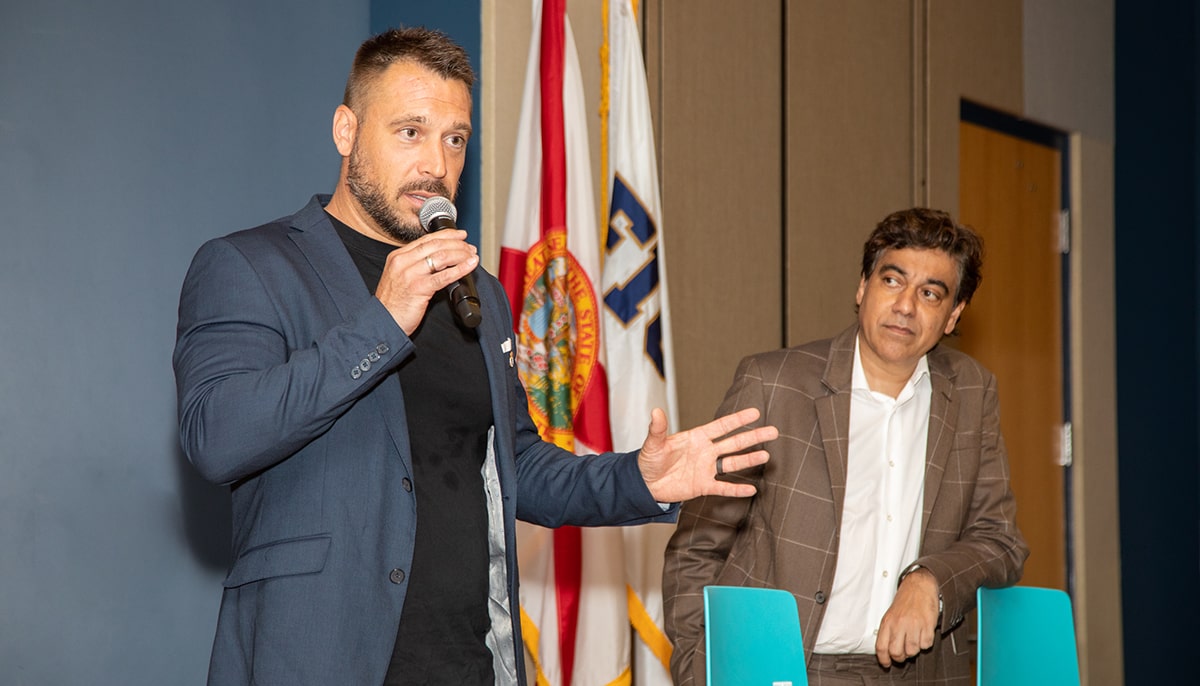 Julien Piwowar and Deepak Ohri
In his opening remarks, FIU Business interim dean William Hardin told students that to innovate they should focus on making something better. "Most innovation comes from someone realizing 'this isn't working, let's do something different'," he said.
In 2021 FIU Business and Real Madrid Graduate School – Universidad Europea (EURM UE) launched their Professional MBA Online in Sports Management program, which offers nine classes from FIU Business and five from EURM UE, covering a variety of topics from finance to competitive strategy.