The words resonated at the 2022 Power Up Women's Leadership Conference – evolve, not fail, learn, drive, resilience. Women entrepreneurs and other professionals shared stories of the roads, and challenges, which have led to their success.
Themed "Shifting Gears," the one-day summit focused on professional and personal development, learning and networking amidst a new business landscape. Hosted by FIU Business and the Chaplin School of Hospitality & Tourism Management at FIU, Power Up was held September 30, 2022.
Keynote speaker Rita Ferro, president of advertising sales at Disney Media & Entertainment Distribution, recalled the early days of her career at ESPN Latin America where there were "only one or two women in the room."
The power struggle between men and women has gotten a lot better and gone are the days when a male executive had to have the last word. Today, the conversation at Disney is significantly different, she noted. New opportunities are being created, people of different color are at different levels, people who can contribute have a voice.
"Don't take things so seriously in terms of sweating the small stuff. Some of my biggest lessons, my most pivotal moments, have been when I've made a mistake," Rita Ferro, president of advertising sales, Disney Media & Entertainment Distribution
"It was because of the skillsets I had, not the experience, that for 25 years I get to represent the most incredible brands in media," Ferro said. "I had the energy, passion. I was going to do anything, and we weren't going to fail."
Maribel Diz, (MSHRM '07, DBA '21), senior vice president of human resources for Visa, shared an inside look at Gen Zers, who are now entering the workforce and often driving workplace trends, as well as millennials.
How do leaders engage these generations? Success depends on understanding and adapting – Gen Z and millennials want "inspirational leadership" versus "cookie-cutter" management.
"Gen Z employees want feedback to get better. When giving feedback talk about the issue, not the emotion; give them an explanation. The 'because I'm the boss and I says so' doesn't work," Maribel Diz, senior vice president of human resources, Visa
"The work leaders assign has to be rewarding and impactful, meaningful and challenging," said Diz. "Gen Z wants more responsibility, to be allowed to self-direct work and a safe space to voice their opinion."
Companies' increased focus on people has significantly changed the role of human resources leaders and teams, two executives noted in one panel.
"HR is the perfect intersection between people and business," said Yvonne Alfonso Santana, vice president of human resources at Kingsway America. "In business, people first is critical and appreciation of human beings can't be absent."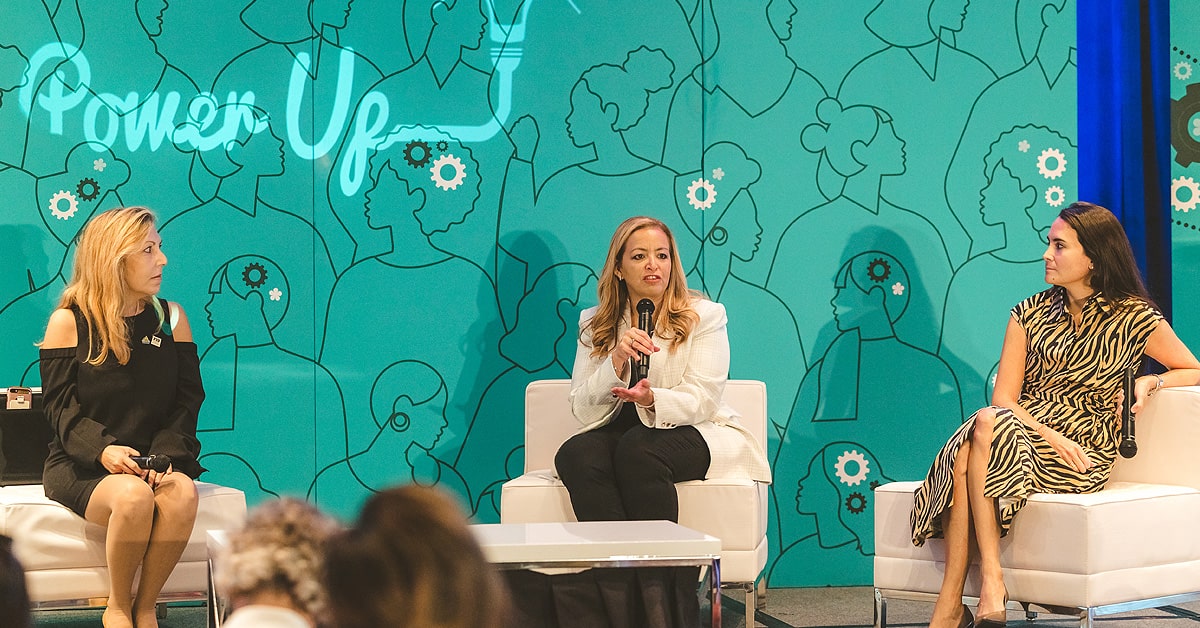 Today, HR is on the frontline of managing post-COVID changes. At CSL Behring, it was HR that identified three areas of momentum, noted Maria Fico, director, human resources and business partner at CSL Behring.
The priorities: giving leaders the tools to respond appropriately in crisis mode; evolving company policy to center on the needs of employees in a changing landscape; and developing next step strategies – return to the office, continue working remotely, adopt hybrid schedules, while engaging leaders and employees.
"When you listen, you're going to learn. Instead of worrying about what I'm going to say next I try to be present in the moment and hear and listen to what's going on," Lani Kane-Hansen, executive vice president and chief development and product officer, Marriott Vacations Worldwide
CSL is one of many companies that have made mental health a top priority, with efforts led by HR teams. The company has enhanced insurance benefits for mental health wellbeing, mental health days have been normalized and dependent leave, to care for others, is available to employees.
"HR is in the driver's seat," said Fico. "We're going to continue to focus on strategies to retain employees."
Another hot topic was the increased quest for work-life balance, which continues to impact the workplace and business landscape. Several hospitality industry executives who have risen through the ranks from employee to the C-suite, shared their thoughts.
"Change around diversity takes a long time. It's an expensive process for a company to go through and I think that's the biggest detriment to a diversity program or a diversity initiative being long term and fulfilling," Carla Harris, managing director, The People Institute
"Every day is a new challenge, a new start," Gilda Perez Alvarado, global CEO at JLL Hotels & Hospitality, said. "You have to look out for yourself at work, at home; No.1 is to take care of each other."
On the work front, the panelists – including executives from Silver Hospitality Group and Radisson Hotel Group – described changes in how people live, work and play; new consumer trends; and sought-after amenities. All provide lessons that are being used for product development and to increase demand at their properties.
"It's not one-size-fits-all," said Lani Kane-Hanan ('87, MS '04), executive vice president and chief development and product officer at Marriott Vacations Worldwide. "People are saying what they want to experience and we're giving it to them."
Now in its seventh year, Power Up has sought to empower women at every stage of their careers through expert insight and community building, making an impact on women's lives globally and locally.