Expanding its strategic outreach and assistance to small businesses at the heart of their communities, FSBDC at FIU Business (FSBDC), the Florida Small Business Development Center at FIU Business, has partnered with the City of North Miami Beach and its Community Redevelopment Agency (CRA) to provide confidential, free consulting to small businesses in its three major commercial districts. 
"We want to meet local small businesses where they are, and support local governments in Miami-Dade County," said Brian Van Hook, regional director of FSBDC at FIU. "This partnership with the City of North Miami Beach is a big part of our new strategy."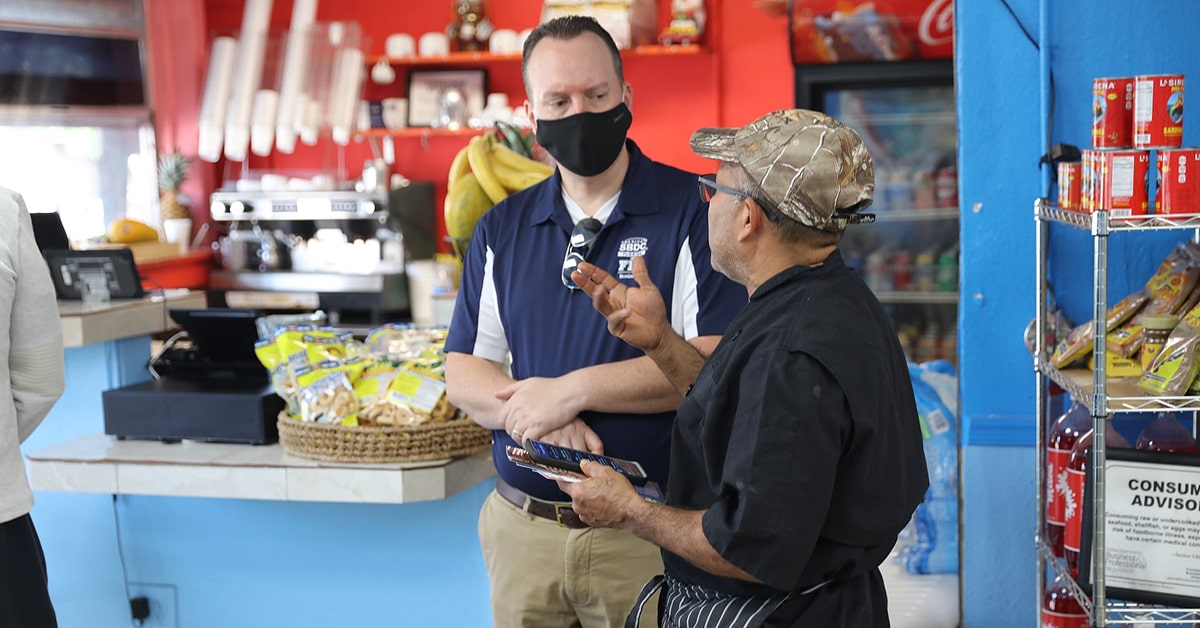 FSBDC at FIU Regional Director Brian Van Hook meeting with a North Miami Beach business owner
Under the center's Business Growth and Acceleration Program (BizGAP) initiative, FSBDC will provide no cost, one-on-one consulting to local entrepreneurs and small business owners, as well as workshops and training sessions. A dedicated FSBDC consultant with deep knowledge of the North Miami Beach community will work directly with area businesses, guiding them in areas of business strategy and development. These businesses will also have access to the wider FSBDC at FIU team of 27 consultants, with expertise including startup assistance, government contracting, business development and human resources/operations.
"We are very excited about our partnership with the Florida Small Business Development Center at FIU," said Joann Milord, economic development and CRA director of the City of North Miami Beach. "This program will give entrepreneurs the opportunity to access business training taught by highly experienced experts."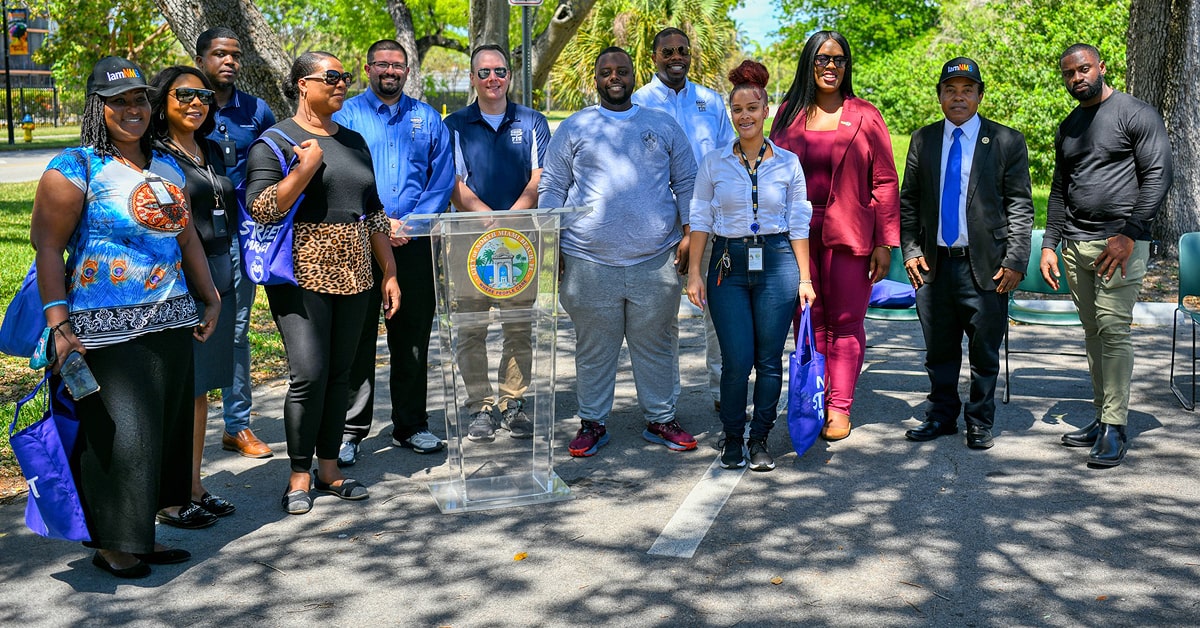 Canvassing kick off event with Florida SBDC at FIU team members, North Miami Beach Commissioners McKenzie Fleurimond and Daniela Jean, City of North Miami Beach staff, and North Miami Beach Community Redevelopment Agency staff.
Deep knowledge, from the start.
Shortly after the kickoff of the North Miami Beach partnership, FSBDC representatives surveyed 152 businesses in the city's three primary commercial corridors, learning about their needs and providing information about grants and incentives. In addition to kickstarting direct assistance to North Miami Beach businesses, the survey created a database that will help identify strategic priorities for action.
North Miami Beach is the third community to create a hyperlocal partnership with FSBDC. The center engaged in similar projects when Wynwood was impacted by Zika in 2016, and in downtown Miami in 2018.
"North Miami Beach has a vibrant small business community that has been bolstered by major investments and new business openings in recent years," said Brian Van Hook, regional director, FSBDC at FIU.  "Our center is proud to partner with the City and CRA on this initiative that will provide targeted assistance, trainings, and outreach to existing businesses and budding entrepreneurs in the community."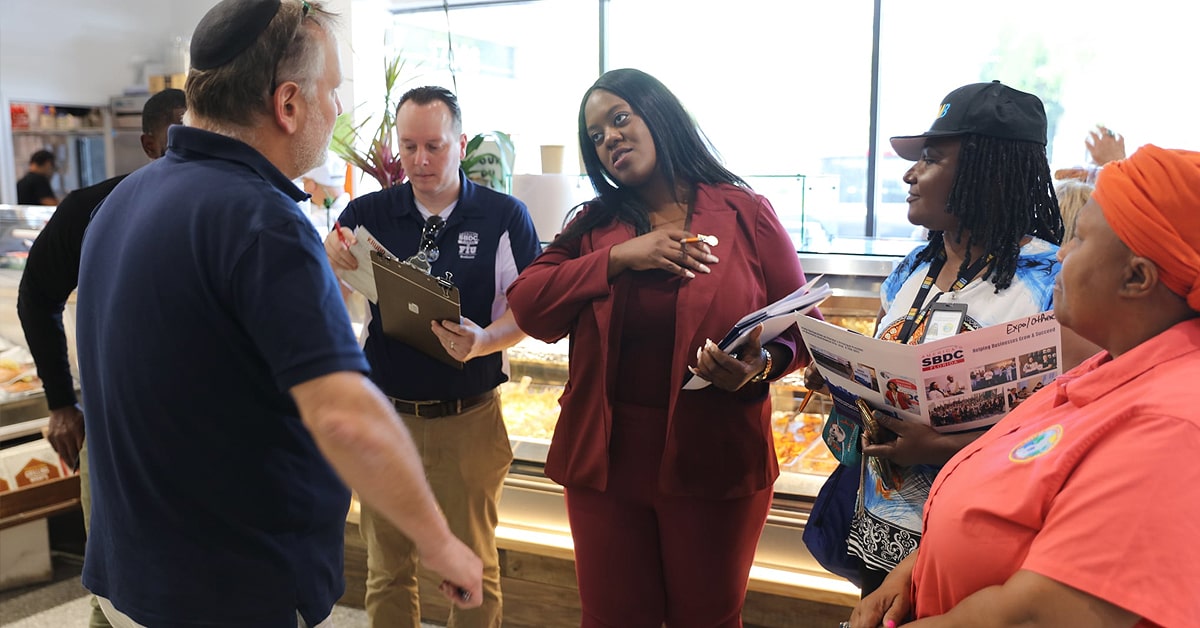 City of North Miami Beach Commissioners Daniela Jean and Paule Villard meeting with a North Miami Beach business owner
FSBDC began offering services in Miami-Dade County in 2014 and expanded to Monroe County in October 2018. In 2021, it assisted 2,051 businesses, helped launch 114 new enterprises, helped secure $118 million in capital loans and grants for small businesses, and helped businesses obtain $33 million in government contracts. The center recently launched its Miami-Dade Small Business Resource Navigator project, a $2.5 million partnership dedicated to working with startups and small businesses in underserved and minority communities. Working with six local organizations, the program will focus on small businesses, including microbusinesses with fewer than 10 employees, as well as those owned by women, veterans, and socially and economically disadvantaged individuals.