Nearly 1,400 FIU Business students entered the next phase in their careers, becoming alumni and celebrating their achievements at two commencement ceremonies held December 14, 2022, at the Ocean Bank Convocation Center.
At a morning ceremony for the Chapman Graduate School of Business, 642 degrees were awarded, including two Doctorate of Business Administration and one PhD. More than 700 students were awarded degrees at an afternoon ceremony for the Landon Undergraduate School. "The world is in need of your passion, knowledge and commitment," FIU President Kenneth Jessell told students as they prepared to walk across the stage.
Three members of the FIU Business graduating class were recognized as Real Triumphs graduates, honored for overcoming great obstacles to achieve success.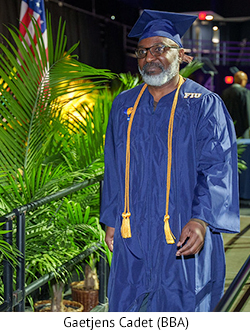 Gaetjens Cadet (BBA)
Gaetjens Cadet stands by finishing what he starts regardless how long it takes. Nearly 27 years after he paused his studies at FIU, Gaetjens receives a bachelor's in international business. "When life throws you curve balls you have to dodge it or hold on to that ball until you can drop it where it needs to go."
Susana Fuertes (BBA)
Barely three months after opening the doors of "Enamor Creations," COVID-19 forced Susana Fuertes to convert the store into an online business. Her approach, and advice to fellow FIU students: treat problems as an interesting puzzle to solve and remain persistent and consistent.
Sharvin Sarabjit (MBA)
Despite numerous health and life challenges, including helping his family, Sharvin Sarabjit has never stopped preparing for his next professional move. Now, diploma in hand, he will be ready for his next professional opportunity, hopefully transitioning into a management role.