Among all the "hot" employment markets, cybersecurity may be among the hottest, with an estimated 3.5 million new jobs to hit the market in the next few years. Cyber breaches at organizations large and small, geopolitical instability, infrastructure vulnerabilities – all pose potential threats, driving up the need for skilled professionals to engage with organizations and deliver solutions.
With this in mind, FIU Business' ATOM Think Tank presented its inaugural Cybersecurity Strategy Challenge in the fall of 2021. It is one several initiatives at the college, including a new cybersecurity track in the Master of Information Systems program, that were introduced to develop the talent pool in this exploding field.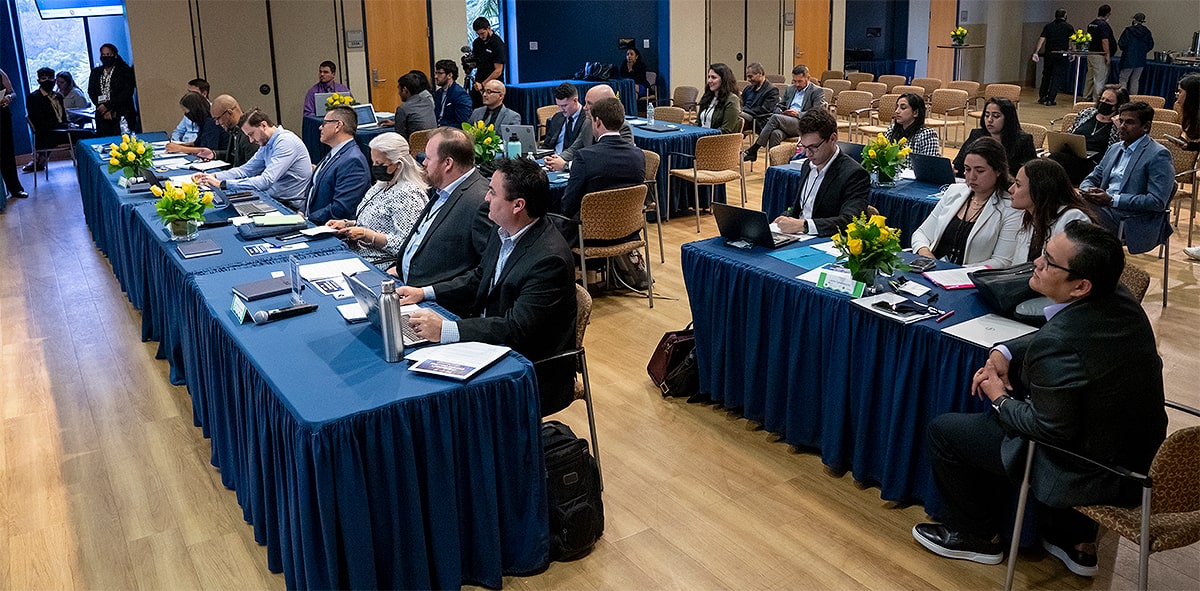 A total of six teams took on the Challenge task of developing a multi-faceted solution for a complex healthcare security breach. Teams had to condense 50 pages of a business case into two pages and develop a presentation on solutions, including a combination of management, policy and technology recommendations and guiding principles that could potentially help any organization.
After each team gave their presentation, judges, who represented the program's sponsors, had the opportunity to question students about their presentations.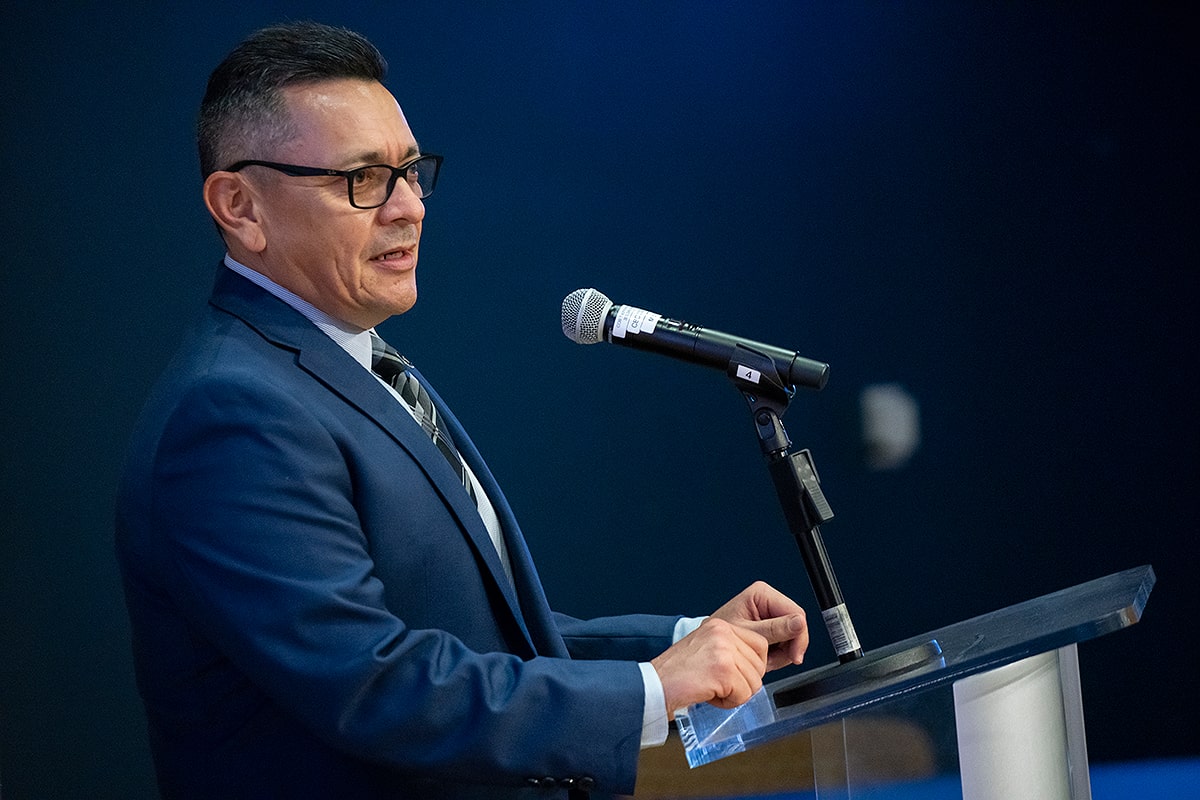 Hernan Lodoño
Keynote speaker Hernan Lodono, senior higher education strategist at Dell Technologies, noted that artificial intelligence is being used to develop ransomware that is crippling even the most advanced backup systems. "This competition, preparing for the next wave, is super important," he said. Citing millions of anticipated new positions in the field, he added, "There are too many jobs that go unfilled."
For students, it was as much a professional networking opportunity as it was a competition. After presenting their pitches, they had the opportunity to meet with judges and explore opportunities with sponsor firms.
Winners bring diverse experience to problem solving.
A team of graduate students in the Master of Science of Information Systems program's business analytics track with professionally diverse backgrounds overcame numerous challenges to emerge victorious.
They included Balan Venkatachalam, a senior director for IT working in healthcare, who took on the graduate program to expand his portfolio of knowledge; Aishwarya Lahari Chamarthi, trained as an architect, who found herself helping her dad's company in data analytics and wanted to know more, and Kinnari Patel (BBA '20), a marketing major whose work as a data analyst inspired her to pursue a graduate degree in business analytics.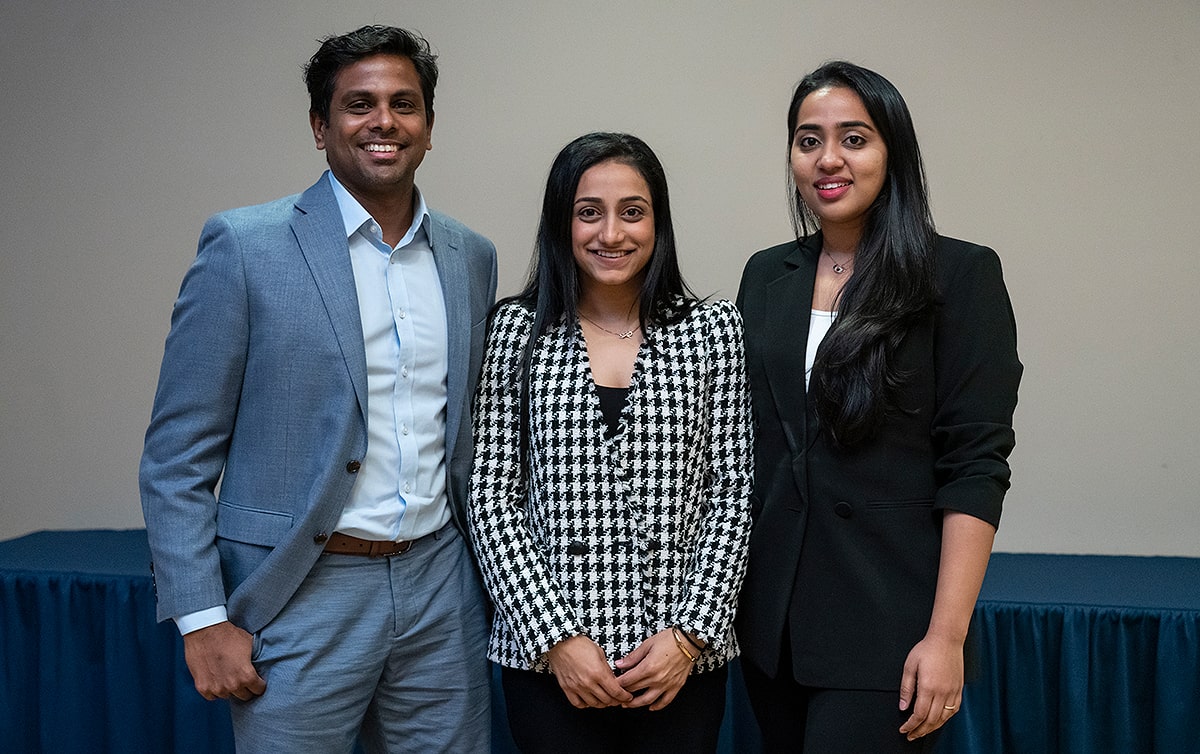 Cybersecurity Strategy Challenge winners (l. to r.) Balan Venkatachalam, Kinnari Patel (BBA '20), and Aishwarya Lahari Chamarthi.
"It was a pretty advanced challenge requiring a combination of technology, policy and geo-political understanding" noted Venkatachalam, who has an undergraduate background in engineering.
The team leveraged each member's strength – Venkatachalam's leadership and industry experience, Patel's marketing and analytical research skills, and Chamarthi's business development and entrepreneurial background. This enabled the team to take a deep dive into specifics and come together for a wholistic approach to solutions.
"Judges questioned the feasibility and posed many alternate scenarios," Patel said. "I think our preparation and research helped us answer them convincingly."  The team also had to overcome a couple of potentially derailing moments that halted the presentation.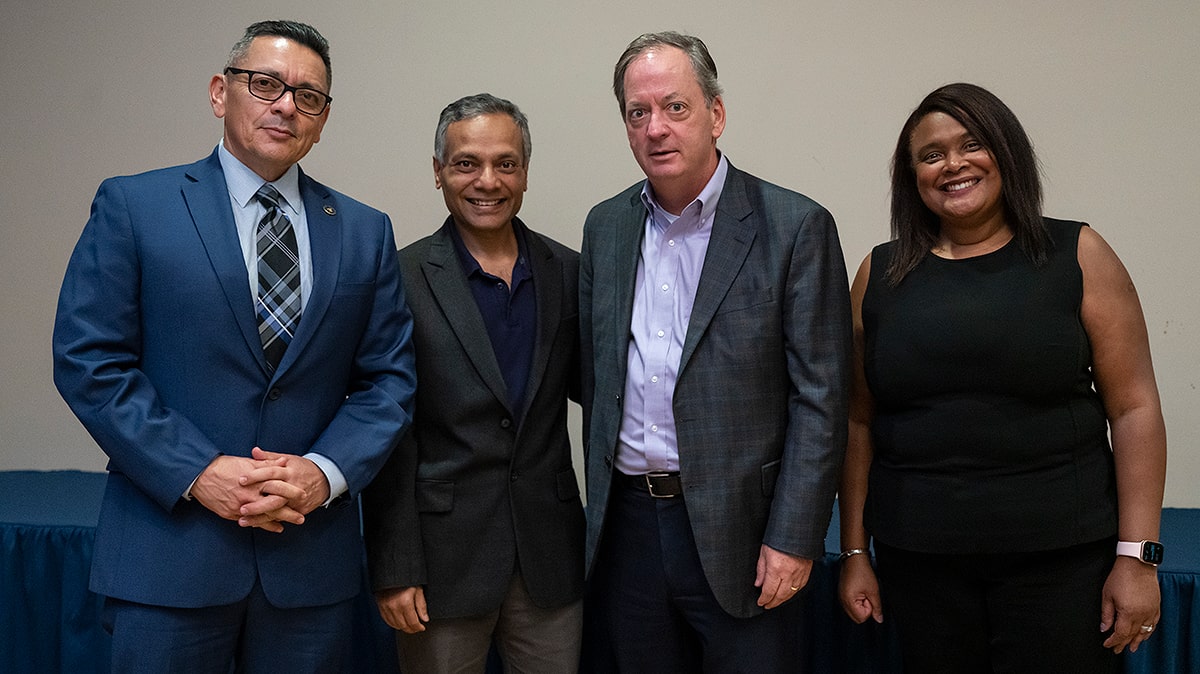 From left to right: Hernan Lodoño, Arijit Sengupta, William Hardin, and Karlene Cousins.
The Platinum Sponsor for the competition was Dell Technologies. Gold Sponsors included NextEra, Southern Glazers Wine & Spirits and Assurant. The Silver Sponsor was DigitalEra Group.
"Without your faith in our programs," said Karlene Cousins, chair of information systems and business analytics, "this event would not be possible.