An increasingly important international business hub, doing business in Thailand is complex for many companies, industries and investors.
In its latest Faculty Development in International Business (FDIB) program, FIU's Center for International Business Education and Research (CIBER) focused on this high-growth market. "It was a fantastic trip," said William Hardin, dean of FIU Business. "Everyone learned valuable lessons."
Presented in partnership with the Pino Global Entrepreneurship Center, Experiential Immersion by Deepak Ohri included business, culture and luxury experiences. A total of 15 professors, from FIU Business and other U.S. universities participated in the program.
"Thailand is an important emerging market that warrants better understanding by academics in the U.S.," said William Newburry, chair of the department of international business at FIU Business, who went on the trip. "The purpose of the FDIB program is to bring experiences from the trip into the classroom, to develop teaching skills and materials in order to further international business education."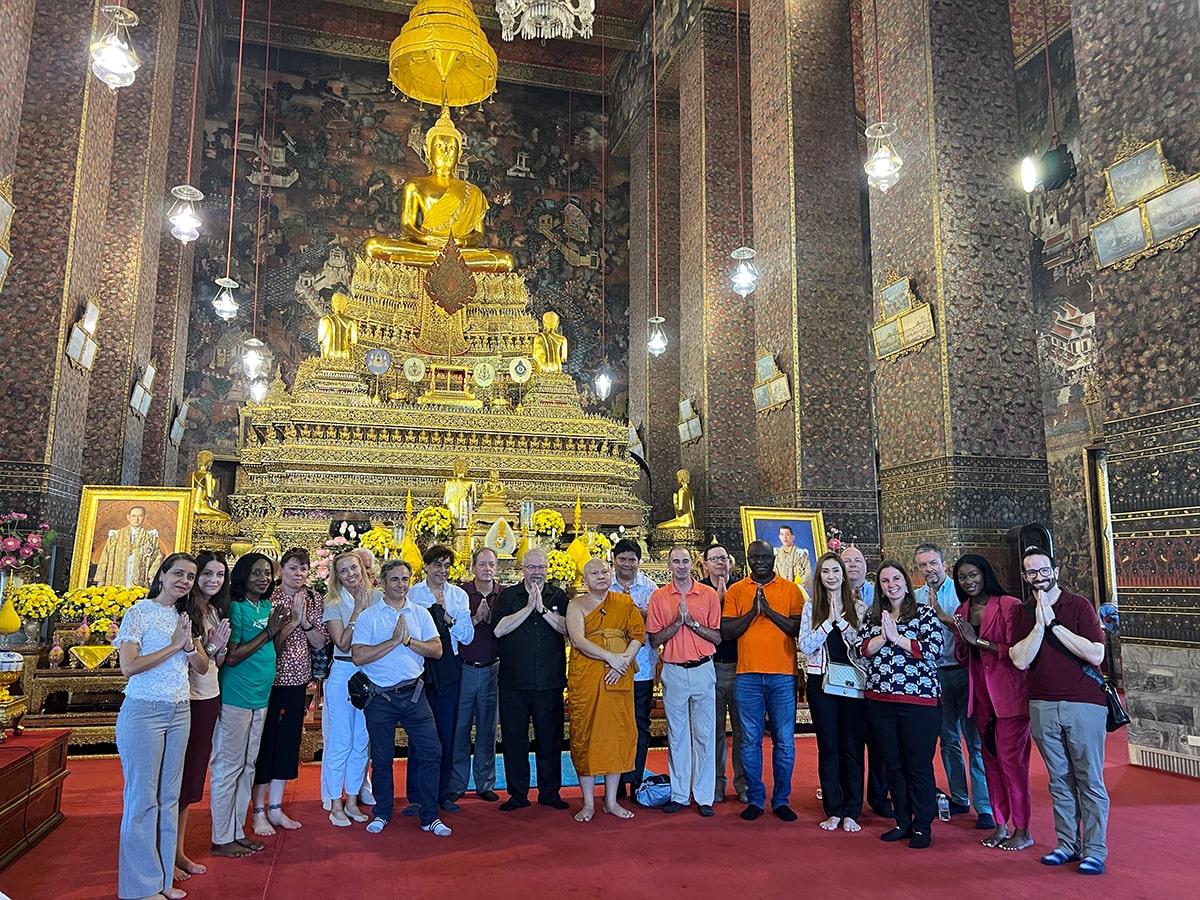 Participants of the Faculty Development in International Business program trip to Thailand visited the Wat Pho Temple in Bangkok.
The week-long experience included visits to Thai Airways; mobile phone company DTAC; and property development firm Siamsindhorn.
Professors highlighted Thai Airways for the creative methods it put in place to develop loyalty from passengers and increase the brand's exposure. Amidst the COVID-19 pandemic, the airline gave passengers mileage points for not traveling that could be used when the pandemic ended.
"It was an example of adaptability in times of crisis," said Newburry. "They also had to compete on their own terms; it's not a big airline so they used strengths of the Thai culture given the resources they have."
The immersion program was developed by Ohri, executive in residence at FIU Business's Pino Global Entrepreneurship Center, and Anna Pietraszek, faculty fellow in entrepreneurship at FIU Business.
Ohri, CEO of lebua Hotels and Resorts, is well known for the concept of 'experiential luxury,' where he believes the focus should be on creating lasting emotional experiences for guests.
Participants stayed at the at the company's flagship hotel in Bangkok. "It was an eye-opener. I've never seen luxury in the way they defined it," said Sumit Kundu, associate dean for CIBER and international affairs at FIU Business, who participated in the program.
Kundu noted that following his experience, two FIU Business undergraduate students will travel to Thailand in summer 2023 for a four- to eight-week internship at lebua Hotels and Resorts.
"Experiential learning is something we can't learn in a textbook," he said. "The goal of CIBER is to help students grow. "We'll expose them to Asian values, culture and traditions."
The FDIB program included a visit to the Wat Pho Temple and a private audience with the chief monk. The conversation, Newburry recalled, covered the importance of living a happy life, inner reflection, and being grateful. He believes that these concepts have broad applicability in the international business environment.
Happiness was key during a webinar presented by Ohri with Philip Kotler, professor at Kellogg School of Management at Northwestern University, and Luis Gallardo, president of the Happiness Foundation.
"Happiness is an expression of management, it is a perfect balance of left and right sides of the brain," said Ohri. "The happiness comes from within."