A team of FIU Business Hollo School of Real Estate students placed first in the U.S., and third out of a worldwide field of 33, in the 2022 ARGUS University Challenge, a business case competition drawing the best and brightest young minds in the field. It is the third time in nine years that a Hollo School team has placed in the top three globally.
The FIU Business team included Master of Science in International Real Estate students Josh Matheus, Isabel Sarnes, Adrian Farina Mosquera and Johan Lahore, with the guidance of faculty advisor Zhongua Wu.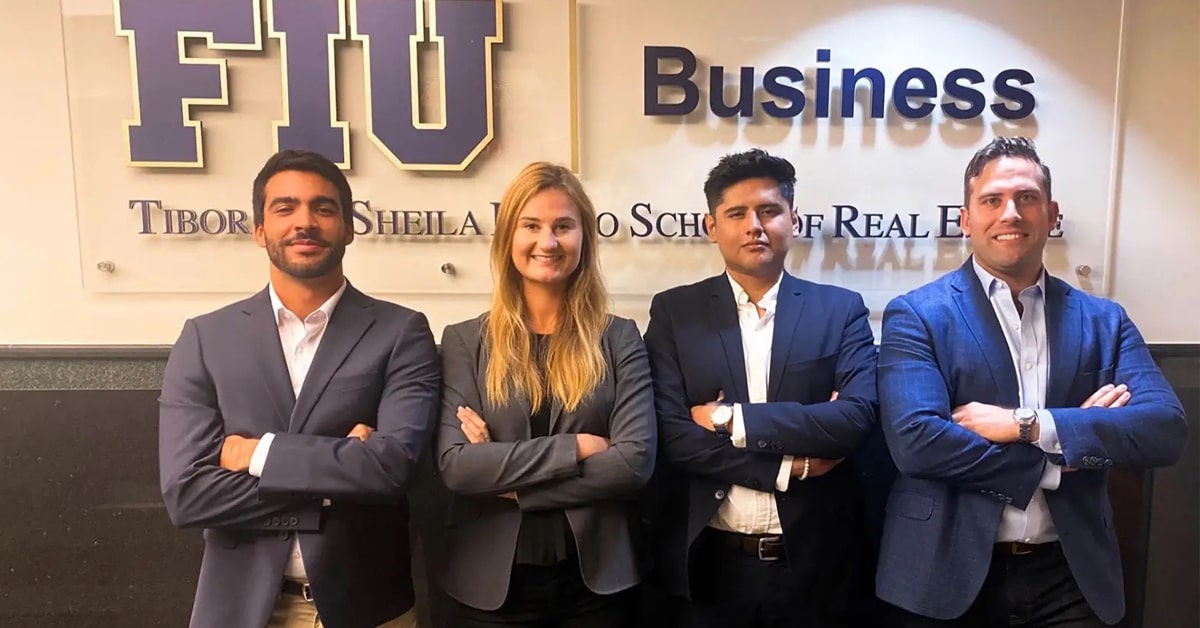 FIU's Argus University Challenge team (l. to r.) Adrian Farina Mosquera, Isabel Sarnes , Johan Lahore, Joshua Matheus
Teams had to analyze information on the hypothetical Pine Mall, an iconic town center building in Forestville, Waterland, losing its appeal due to low local demand. Over the course of five weeks, using Argus' real estate software, teams had to examine the data on the mall and choose the best plan out of three options.
"The ARGUS University Challenge is an extremely competitive global competition, with many top schools participating," said Eli Beracha, director of the Hollo School. "The fact that our students won third place shows that they are as good, or even better, that those from any other school."
He noted that the quality of the team's submission is a "great example of what hard work and dedication can achieve, not just in academic settings, but in the professional world as well."
Team member Matheus, an experienced real estate professional, noted, "We are grateful for the opportunity to compete and proud to represent this prestigious university. Our team would not have been successful without the support of our faculty. Using what we learned in lectures and our individual past experiences, we tackled this project head on and it paid off!"