Driven by its mission of bringing business and cultural awareness to U.S. educators in spite of the challenges of the pandemic, FIU's Center for International Business Education and Research (CIBER) took cultural immersion to the next level in its latest Faculty Development in International Business (FDIB) program.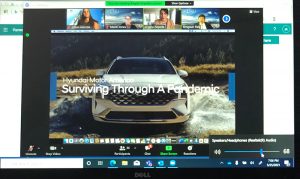 Presenting "Virtual FDIB: South Korea" along with Loyola Marymount University's CIBER, the lineup of speakers included marketing leaders of South Korean electronics giant LG and leading automaker Hyundai; academics from Yonsei University and the University of Texas who were well-versed in culture and business, and a veteran guitarist, who has collaborated with some of K-pop's leading names.
Nearly 30 faculty members from schools throughout the U.S. joined the program.
The week-long experience, presented for two hours each evening, brought insight into how a nation with a distinct culture is handling the pandemic, and served to create bridges for new engagements.
Much of the program, entitled "How Korean Companies Pivoted During the COVID-19 Pandemic," focused on the ongoing impact of the pandemic on business, industry and culture, with insights into supply chain issues facing leading manufacturers. Jillian Avendano, director of the FIU CIBER, noted that the effort was made to present a well-rounded picture of South Korea so that participants could have a full experience. Program moderators enabled participants to ask questions of presenters on a chat and get them answered in an organized way, allowing for maximum participant engagement.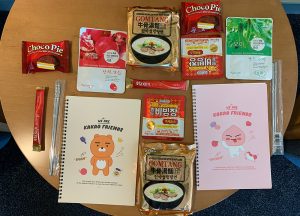 Much like CIBER's in-person trips, which offer immersive cultural learning, the program strived to deliver a rich experience. Right before the program began, each participant received a "goody bag" of Korean foods, snacks (including a Choco Pie) and other items, to set the tone for an international experience they could touch, feel and taste from their own offices and homes.
Participants emerge with a sense of new possibilities.
Herbert Ricardo, professor of international business at Indian River State College in Vero Beach, Florida, came to CIBER with an interest in study abroad programs. His anticipation for the journey grew when he received the program itinerary.
"I was given a very detailed itinerary and overview of speakers, with superb information and bios with photos," he said. "I had a good idea of what would be conveyed: culture, companies and the pandemic, and how they happened to work through it."
"Not only was the experience terrific, but it was delivered in an excellent way," he said.
As the program progressed, Ricardo said, he became more and more engaged in a rich learning experience that gave him a deep overview of South Korean culture. He emerged with a sense of the nation's resilience and optimism that is integral to the business culture, along with a strong sense of ethics and transparency.
He sees the potential of experiences like CIBER's for creating excitement about international learning experiences, both virtual and in-person.
"This clearly opens the door to a virtual study abroad in other parts of the world," he said.