A team of FIU Business students took first place in all three presentation categories at the virtual International Business Ethics & Sustainability Case Competition, hosted by Loyola Marymount University, from April 6 through 8.
Each team delivered their presentations to a panel of business executives working in the sustainability space, who served as judges. In the first category, a 25-minute presentation, the FIU team came out on top of a field that included Cornell University, UMass Amherst, the University of Illinois Urbana-Champaign and Loyola University Maryland. The team also scored victories in the 10-minute presentation and 90-second elevator pitch categories.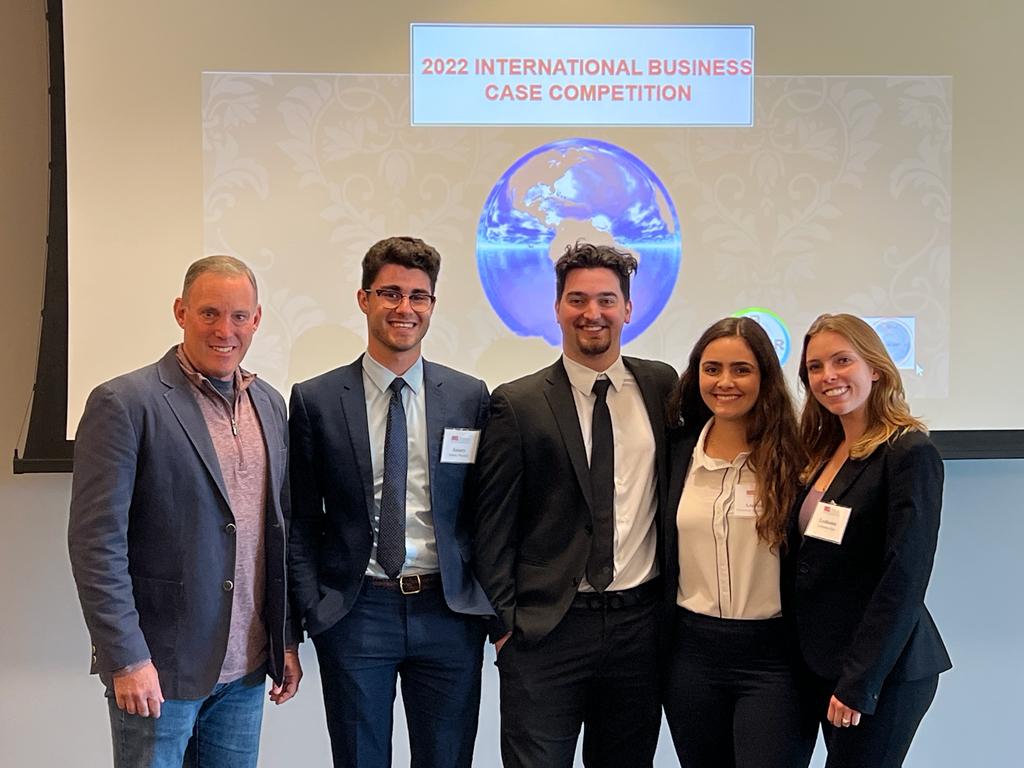 FIU Business students competed in the International Business Ethics & Sustainability Case Competition (l. to r.): Faculty advisor David Wernick, students Amory Pescariu, Carlos Marrero, Andressa Angelini da Souza and Leahanna Sine.
The team's mentor, Teaching Professor David Wernick, chose a case study for the team about the popular fast casual restaurant chain Shake Shack and how it might adapt its menu to accommodate market demands for plant-based options and incorporate eco-friendly business practices. The rules required students to frame their solutions to the case dilemma in the context of the UN Sustainable Development Goals.
Team FIU included students Lehanna Sine, Andressa Angelini Souza, Carlos Marrero, and Amory Pescariu. It received coaching and mentoring from Wernick and a contingent of international business faculty members, including Donald Roomes, Louis Melbourne and Alfredo Fuchs. 
"It was an amazing experience to be part of this team," said Pescariu, an undergraduate student. "The prep work was intense and demanding, but also rewarding. We learned to look at business problems in a holistic way – examining legal, ethical, and financial dimensions. Without a doubt, this was one of the highlights of my undergraduate experience."