Starting a new business venture is among the most popular goals of the new year. Yet many potential founders quickly hit the wall, deterred by the slim prospect of finding venture capital (VC) to finance their endeavor.
That's a big mistake, says Dileep Rao, clinical professor at FIU Business, Forbes blogger, and a frequent speaker on entrepreneurship issues. Rao has made it his mission to train entrepreneurs to develop growth ventures without VC by building their skill sets and using the tactics of billion-dollar entrepreneurs.
In his new book, Finance Secrets of Billion-Dollar Entrepreneurs, Rao shares insights derived from over four decades of financing, interviewing and analyzing more than 120 billion-dollar entrepreneurs and hundred-million-dollar entrepreneurs who built giant ventures from scratch.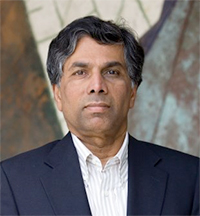 "Among America's most highly successful entrepreneurs, 76% never used VC," Rao said. "Of the remaining 24% that did use VC, the majority were able to maintain control of their venture and the wealth they created by avoiding VC until their venture's potential and their leadership skills were evident – when venture capitalists came calling."
This type of start-up financing and venture know-how, Rao says, is critical to entrepreneurs in Miami and other areas outside of Silicon Valley, where venture capital is scarce and has not been as successful. His experiences in financing and managing ventures in Minnesota and Wisconsin bears this out.
Rao, who initially financed ventures using early-stage venture capital changed his perspective after researching how companies such as Fastenal, Best Buy, and UnitedHealthcare optimized internal financing to attract external financing and to take-off without VC. "My goal is to reach entrepreneurs with guidance that comes 'straight from the unicorn's mouth,' " he said. This expertise can help entrepreneurs and regions outside Silicon Valley build growth ventures by taking off without VC.
Finance Secrets of Billion-Dollar Entrepreneurs is the first book published by FIU Business Press, a new imprint designed to bring resources for business success to a wide audience.
FIU Business Press was created as an imprint of Mango Publishing of Coral Gables. Led by industry veteran Chris McKenney, Mango was ranked No.1 on Publishers Weekly's 2019 and 2020 lists of the fastest-growing independent book publishers. Modeled after Harvard Business Press as a university-based publisher that caters to general business readers, FIU Business Press is an extension of FIU Business Executive Education and its mission to extend lifelong learning beyond the classroom.