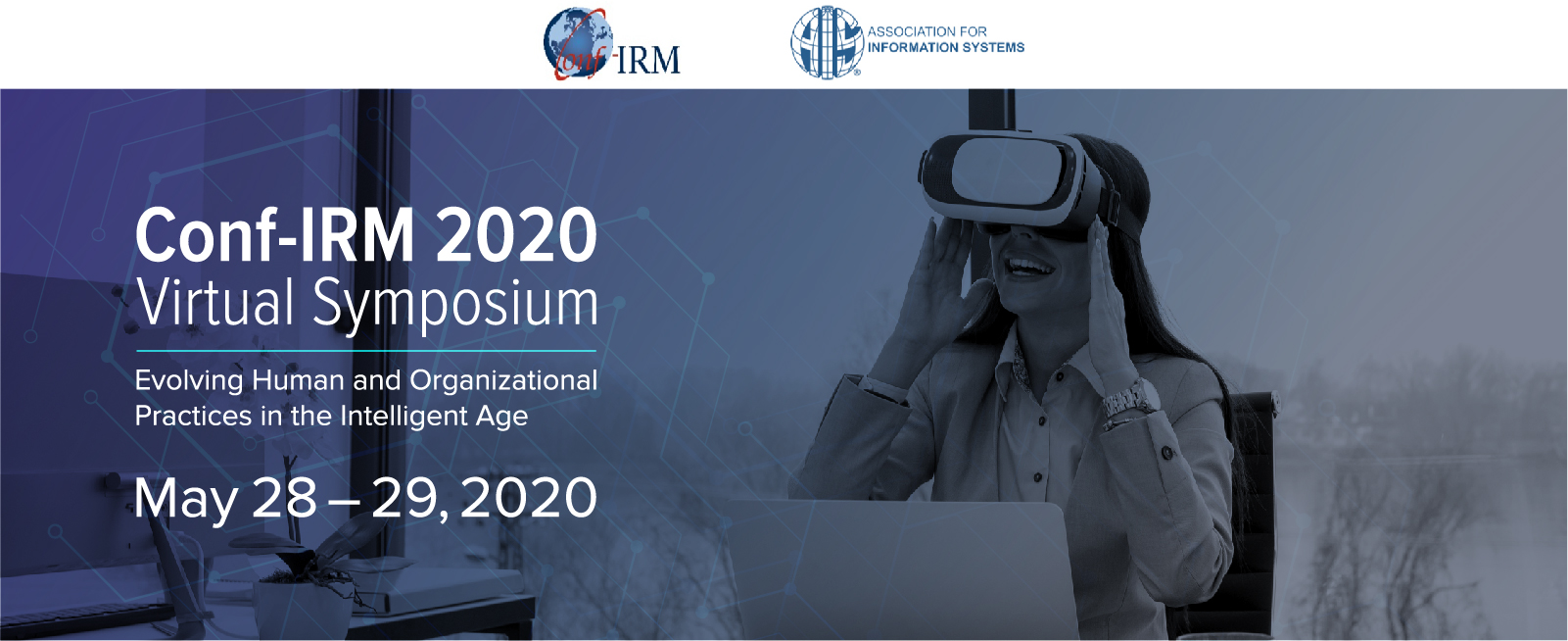 Thursday, May 28, 2020

All times are EDT, Eastern Daylight Time
12:55 p.m.
Sign In/Registration
1:00 p.m. - 1:05 p.m.
Welcome
Gerald Grant, Carleton University, Canada
Co-Chair, Executive Committee Conf-IRM
1:05 p.m. - 2:00 p.m.

Keynote Presentation
"Never Waste a Crisis: Let's Reset IRM Research!"
M. Lynne Markus, John W. Poduska Sr. Professor of Information and Process Management at Bentley University and an associated researcher at MIT's Center for Information Systems Research
2:00 p.m. - 3:30 p.m.
Morning Paper Sessions / Concurrent / Pre-Recorded

Big Data, Data Analytics, and Business Intelligence (Track 1)
Session Chair: Monica Tremblay (College of William and Mary, USA)
Ph.D. Student: Eduardo Salcedo

Big Data Evaluation Scorecard
Anthony Koomson (University of Ghana, Ghana); Richard Boateng, Eric Afful-Dadzie and Acheampong Owusu (University of Ghana Business School, Ghana)

Use of Network Analysis Technique for Prioritizing Project Portfolio: A Case Study
Gretta Carenine Paes Amorim Araújo and Claudio Luis Carvalho Larieira (EAESP/FGV, Brazil); Eduardo de Rezende Francisco (FGV EAESP, Brazil)

Integrated Management of Energy Consumption and Animal Welfare in the Milk Production Industry using Machine Learning
Leonardo Santiago Benitez Pereira (Federal Institute of Santa Catarina, Brazil); Rafael Rodrigues (Instituto Federal de Santa Catarina, Brazil); Olli Koskela, Iivari Kunttu and Joni Kukkamäki (Häme University of Applied Sciences, Finland); Edison A. C. Aranha, Neto (Federal Institute of Santa Catarina, Brazil)

Digital Transformation, Entrepreneurship and Innovation (Track 8)
Session Chair: Attila Hertelendy (Florida International University, USA)
Ph.D. Student: Polina Durnerva

Growing in the Digital Economy: The Case of a Digital Enterprise in a Developing Country
Eric Ansong (University of Ghana, Ghana);
Richard Boateng (University of Ghana Business School, Ghana)

Digital Entrepreneurship and Institutional Changes: Fintechs in the Brazilian Mobile Payment System
Gabriel M Braido (University of Vale do Taquari - Univates, Brazil);
Amarolinda Klein (UNISINOS, Brazil)

Problems Associated with Older Adults' Adoption of Robo Advisors: An Empirical Study
Shangjun Wang (Florida International University, USA)

Intelligent and Digital Heath Care Systems (Track 6) & Intelligent and Digital Information Systems in Latin American, the Caribbean (Track 10)
Session Chair: Manjul Gupta (Florida International University, USA)
Ph.D. Student: Jiusheng Chen

Designing Social Networking Mobile App for Diabetes Management
Md Rakibul Hoque (Emporia State University, USA); Wahiduzzaman Khan (Leading University, Shylet, Bangladesh); Mohammad Zahedul Alam (Bangladesh University of Professionals, Bangladesh); Golam Sorwar (Southern Cross University, Australia); Md Hasan (Bhalo Achi Healthcare and Research Ltd., Bangladesh)

The Effect of e-Filing on Tax Compliance among Micro Enterprises in Jamaica
Genee Tracey, Steven Rob and Lisandra Bartley (The University of the West Indies, Jamaica); Delroy Chevers (The University of the West Indies, Mona Campus, Jamaica)

Innovation Capabilities and the Role of Strategic Intelligence
Fernanda M. Reichert, Raquel Janissek-Muniz, Mariana Heinze, Amanda S. Cainelli and Paulo A. Zawislak (Federal University of Rio Grande do Sul, Brazil)
3:30 p.m. - 3:55 p.m.
Break – No programming offered
4:00 p.m. - 5:30 p.m
Afternoon Paper Sessions / Concurrent / Pre-Recorded

Information Security, Privacy, and Risk Management (Track 4, Part 1)
Chair: Lech Janczewski (The University of Auckland, New Zealand)
Ph.D. Student: Shangjun Wang

Could Cyber-conflict be Avoided? Exploring Deterrence in Low and High Stakes Information Security Interactions
Carlos Parra (FIU, USA); Hemang Subramanian (Florida International University, USA); Suresh Malladi (Cybersecurity Researcher & Consultant, USA)

Tailoring the Cyber Security Framework: How to Overcome the Complexities of Secure Live Virtual Machine Migration in Cloud Computing
Hanif Deylami, Jairo A Gutierrez and Roopak Sinha (Auckland University of Technology, New Zealand)

IT Assimilation: Conceptualization and Measurement
Lakshmi Goel, Steven Williamson and Justin Zhang (University of North Florida, USA)

Intelligent and Digital Information Systems in the Public Sector & Health Care (Tracks 5 & 6)
Session Chair: Lina Bouayad (Florida International University, USA)
Ph.D. Student: Eduardo Salcedo

Manipulation of Online Reviews: Analysis of Negative Reviews for Healthcare Providers
Sojen Pradhan (University of Technology Sydney, Australia); Elina Amatya (eHealth NSW, Australia); Yijun Ma (IKEA, Australia)

Open Government Data initiatives: Open by Default or Publishing with Purpose
Novy N.R.A. Mokobombang, Jairo A Gutierrez and Krassie Petrova (Auckland University of Technology, New Zealand)

Who Should I Approach? Knowledge Sourcing in Enterprise System Implementation
Sharath Sasidharan (Bowling Green State University, USA); Bethany Niese (University of North Georgia, USA)

Digital Business Platforms, Blockchain, Social Networking, and the Internet of Things (Track 9)
Session Chair: Hemang Subramanian (Florida International University, USA)
Ph.D. Student: Polina Durneva

Achieving Organizational Agility through Application Programming Interfaces: The Effect of Dynamic Capability and Institutional Forces
Joshua Ofoeda (University of Professional Studies, Accra, Ghana); Richard Boateng (University of Ghana Business School, Ghana); John Effah (University of Ghana, Ghana)

A Utility Theory Model for Individual Adoption of Bitcoin
Pouyan Esmaeilzadeh, Hemang Subramanian and Karlene Cousins (Florida International University, USA)

A Framework for IoT-based Products and Services Value Proposition
Graziela Molling (UNISINOS University, Brazil); Amarolinda Klein (UNISINOS, Brazil)
5:45 p.m. - 6:30 p.m.

Virtual Reception - BYOD

Friday, May 29, 2020

All times are EDT, Eastern Daylight Time
12:55 p.m.
Sign In/Registration
1:00 p.m. - 1:05 p.m.
Welcome
Karlene Cousins Florida International University, U.S.A., Conf-IRM Co-Chair
1:05 p.m. - 2:25 p.m.

Keynote Presentation
"AI in Healthcare, Initiatives and Lessons Learned as CIO in the Pandemic Era"
Michael Garcia, CIO & VP, Information Technology, Jackson Health Systems
Keynote Recording
2:45 p.m. - 3:45 p.m.

Panel Discussion / Q & A
"Relevant vs. Publishable Research: Does Our Work Actually Matter?"
Guillermo Rodríguez Abitia (Universidad Nacional Autónoma de México, Mexico) - Moderator
Monica Tremblay (William and Mary, USA)
George M. Marakas (Florida International University, USA)
Fred Niederman (Saint Louis University, USA)
3:45 p.m. - 4:10 p.m.
Break – No programming offered
4:15 p.m. - 5:45 p.m.
Afternoon Paper Sessions / Concurrent / Pre-Recorded

Intelligent and Digital Information Systems in Latin American & the Caribbean (Track 10, Portuguese Language)
Chair: Marie Anne Macadar (The Federal University of Rio de Janeiro, Brazil)
Ph.D. Student: Polina Durneva

Identificando as Competências Informacionais e o Potencial das TIC no âmbito da vulnerabilidade social: um estudo em Associação de Material Reciclável no Brasil
Ana Carolina Silva and Taiane Ritta Coelho (Federal University of Parana, Brazil); Marcia Cassitas Hino (Positivo University & Fundação Getulio Vargas, Brazil)

Cocriação no desenvolvimento de sistemas de informação: O caso do software de gestão de processos eletrônicos de uma universidade federal brasileira
Adrianne Andrade (Universidade Federal do Rio Grande do Norte, Brazil); Anatália Ramos (UFRN, Brazil)

Elementos que afetam o desenvolvimento de Fintechs de Pagamentos Móveis: um estudo de caso no Contexto Brasileiro Gabriel M Braido (University of Vale do Taquari - Univates, Brazil); Amarolinda Klein and Guilherme Papaléo (UNISINOS, Brazil)

Enterprise Systems & Knowledge Management (Track 2)
Chair: Weidong Xia (Florida International University)
Ph.D. Student: Shangjun Wang

Communities of Practice: Role of Shared Vision, Shared Goals and Accountability as Knowledge Transfer Enablers
Oluwatosin Araba and Kevin Gallagher (Cleveland State University, USA)

Using Knowledge Management to Strengthen Information Security Policy Development in Developing Countries: Case - Jamaica
Nadine Barrett Maitland (University of The West Indies Mona & University of Technology Jamaica, Jamaica); Kweku-Muata Osei-Bryson (Virginia Commonwealth University, USA); Gunjan Mansingh (The University of the West Indies, Jamaica)

Enterprise System Implementation: A Multimodal Approach to Social Network Knowledge Transfer
Sharath Sasidharan (Bowling Green State University, USA); Bethany Niese (University of North Georgia, USA)

Information Security, Privacy, and Risk Management (Track 4, Part 2)
Chair: Yan Chen (Florida International University, USA)
Ph.D. Student: Eduardo Salcedo

Cyberhate: Profiling of Potential Targets
Malcolm Garbutt, Jacques Ophoff and Manqola Tshidi (University of Cape Town, South Africa)

Self-Serving Bias in Machine Learning and Artificial Intelligence Systems: A Case of Phishing Website Detection System
Yan Chen (Florida International University, USA)

Impact of Security Awareness on Smartphone Security
Annette Mills, Yilun Huang, Xuan (Jade) Chen, Haolin Ding and Xiaohui Li (University of Canterbury, New Zealand)

Session 3D: Digital Information Systems for Development and Inclusion (Track 7)
Chair: G. Harindranath (Royal Holloway, University of London)
Ph.D. Student: Jiusheng Chen

Solutions to Increase Mobile Merchant Payment Applications Value, Customers' Continued Intention to Use, and Loyalty
Karlene Cousins, Pouyan Esmaeilzadeh and Shangjun Wang (Florida International University, USA)

Mobile Money and Financial Inclusion for the Unbanked - A Choice Analysis
Batloung Hlabeli, Pitso Tsibolane and Malcolm Garbutt (University of Cape Town, South Africa)

Digital-by-Default: Exclusion Through Digital Public Service Channel
Javiera Fernanda Medina Macaya (Fundação Getulio Vargas & Regional Center for Studies on the Development of the Information Society Ceticbr NICbr, Brazil); André Francisco Alves (EAESP/FGV, Brazil); João Porto de Albuquerque (University of Warwick, United Kingdom (Great Britain)); Maria Alexandra Cunha (Fundação Getulio Vargas, Brazil)
5:45 p.m.

Closing Remarks and Close of Conference
Keynote Speakers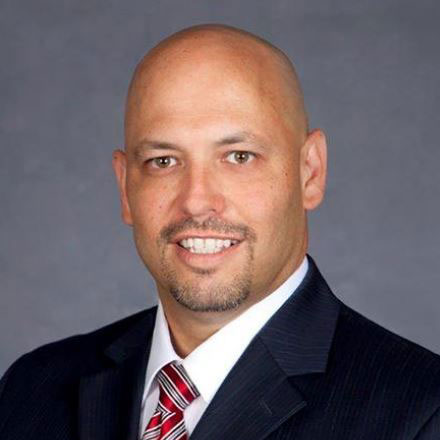 Michael A. Garcia
Michael A. Garcia is the vice president and chief information officer of Jackson Health System, one of the largest public health systems in the United States.
Prior to being named the chief information officer in 2012, Mr. Garcia was the corporate director of information services for Jackson Health System and previously worked at the University Of Miami Miller School Of Medicine.
Mr. Garcia is a strategic, innovative thinker whose vision brings a unique blend of healthcare knowledge, information technology, and business acumen. He has more than 20 years of experience working with large complex healthcare organizations specializing in IT healthcare informatics, diagnostic imaging, health information management, and revenue cycle management.
He is well versed in establishing governance, policies and platforms for technology to facilitate collaboration between the business side of operations and the technical side. He has a proven record in successfully executing enterprise-wide clinical and financial information systems implementations. In addition to holding numerous professional and technical certifications, Mr. Garcia received his undergraduate and Master's of Science in Management Information Systems degrees from Florida International University's Chapman School of Business.
Michael will speak on AI in health care and initatives and lessons learned in his role as a health care pandemic CIO in the COVID-19 era.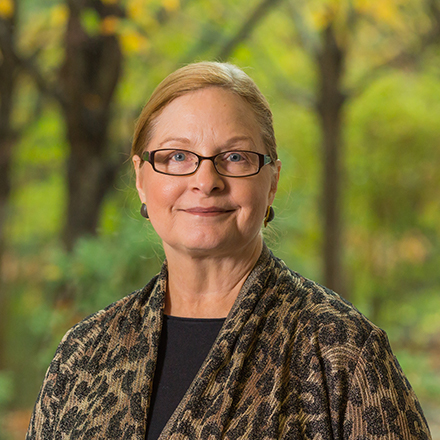 M. Lynne Markus
M. Lynne Markus is the John W. Poduska, Sr. Professor of Information and Process Management at Bentley University and an associated researcher at MIT's Center for Information Systems Research. She has published extensively in the areas of digital business and interorganizational governance, enterprise systems and business processes, electronic communication and knowledge reuse, and organizational change management.
Her current research interests include digital innovation in the financial and health sectors, the responsible use of data and algorithms, and the changing nature of work. Markus was named a Fellow of the Association for Information Systems in 2004 and received the AIS LEO Award for Exceptional Lifetime Achievement in Information Systems in 2008.
Track 01 - Big Data, Data Analytics, and Business Intelligence (co-chairs: Kweku-Muata Osei-Bryson, Virginia Commonwealth University, USA; Monica Tremblay, College of William and Mary, USA; Norman Johnson, University of Houston, USA)
Track 02 - Enterprise Systems & Knowledge Management (co-chairs: Weidong Xia, Florida International University, USA; Kevin Gallagher, Cleveland State University, USA)
Track 03 - Digital Services, Management & Governance (co-chairs: Edward Bernroider, Vienna University of Economics and Business, Austria; Jyoti Choudrie, University of Hertfordshire, UK; Daphne Simmonds, University of Denver, USA)
Track 04 - Information Security, Privacy, and Risk Management (co-chairs: Lech Janczewski, University of Auckland, NZ; Yan Chen, Florida International University)
Track 05 - Intelligent and Digital Information Systems in the Public Sector, Telecommunications, Transport and Education (co-Chairs: Marie Anne Macadar, Federal University of Rio de Janeiro, Brazil; Retha de la Harpe, Cape Peninsula University of Technology, South Africa)
Track 06 - Intelligent and Digital Heath Care Systems (co-Chairs: Lina Bouayad, Florida International University, USA; Pouyan Esmaeilzadeh, Florida International University, USA)
Track 07 - Digital Information Systems for Development and Inclusion (co-Chairs: G. Harindranath, Royal Holloway University of London, UK; Maria Alexandra Cunha, Fundação Getúlio Vargas, Brazil; Arlene Bailey, University of the West Indies, Mona, Jamaica)
Track 08 - Digital Transformation, Entrepreneurship and Innovation (co-Chairs: Sanjay Mathrani, Massey University, New Zealand; Sonja Wiley, Louisiana State University, USA); Peter Polak, Florida International University
Track 09 - Digital Business Platforms, Blockchain, Social Networking, and the Internet of Things (co-Chairs: Eusebio Scornavacca, University of Baltimore, USA; Hemang Subramanian, Florida International University; Shaobo Ji, Carleton University, Canada)
Track 10 – Intelligent and Digital Information Systems in Latin American & the Caribbean* (co-Chairs: Manjul Gupta, Florida International University, USA; Ariel La Paz, University of Chile, Chile: Gunjan Mansingh, University of the West Indies, Mona, Jamaica); Dr. Marie Anne Macadar, COPPEAD/The Federal University of Rio de Janeiro
Track 11 - Designing Intelligent and Digital Systems (co-Chairs: Debra Van der Meer, Florida International Unviersity, USA; Kaushik Dutta, University of South Florida, USA; Hamid GholamHosseini, Auckland University of Technology, New Zealand)
Track 12 - Workshops, Tutorials, and Panels (co-Chairs: Felix B. Tan, Auckland University of Technology, New Zealand; Jairo Gutierrez, Auckland University of Technology, New Zealand)
* Will accept submissions in Portuguese and Spanish


ORGANIZING COMMITTEE
Conference Co-Chairs
Karlene Cousins, Florida International University, USA
Gerald Grant, Carleton University, Canada
Program Co-Chairs
Richard Klein, Florida International University, USA
Annette Mills, University of Canterbury, New Zealand
Local Organizing Chair
Carrie Sanchez, Florida International University, USA
Publications and Proceedings Co-Chair
Lech Janczewski, The University of Auckland, New Zealand
Conf-IRM Executive / International Chairs
Felix B. Tan, Auckland University of Technology, New Zealand (co-chair)
G. 'Hari' Harindranath, Royal Holloway University of London, UK
Sherif Kamel, The American University in Cairo, Egypt
Jairo Gutierrez, Auckland University of Technology, New Zealand
INTERNATIONAL PROGRAM COMMITTEE
Abel Moreno, Metropolitan State University of Denver
Alfred Castillo, California Polytechnic State University
Amin Shoja, Florida International University
André Alves, EAESP/FGV
Andre de la Harpe, Cape Peninsula University of Technology
Andre Steenkap, Cape Peninsula University of Technology
Annette Mills, University of Canterbury
Anuradha Mathrani, Massey University
Brian Cusack, Auckland University of Technology
Carlos Parra, Florida International University
Caroline Tuttman, Coppead - The Federal University of Rio de Janeiro
Charlette Donalds, The University of the West Indies, Mona
David Diago, Florida International University
Dimitrios Xanthidis, Higher Colleges of Technology
Dinesh Batra, Florida International University
Edimara Luciano, Pontifical Catholic University of Rio Grande do Sul
Erandi López, UPAEP
Everist Limaj, WU Wien
Fernando Pinto, Coppead - The Federal University of Rio de Janeiro
Gabriel Cogo, EAESP/FGV
Gaurav Bansal, University of Wisconsin-Green Bay
Hemang Subramanian, Florida International University
Inkyoung Hur, University of Miami
Jonathan Vasquez, University of Valparaiso
Jorge Lheureux-de-Freitas, Pontifical Catholic University of Rio Grande do Sul (PUCRS)
Kamarul Faizal Hashim, University of Dubai
Karen Lopes, Pontifical Catholic University of Rio Grande do Sul (PUCRS)
Lech Janczewski, University of Auckland
Lena Waizenegger, Auckland University of Technology
Lila Rao, The University of the West Indies, Mona Luiz Mendes-Filho, UFRN

Luiz Vargas, Coppead - Federal University of Rio de Janeiro
Malgorzata Kolotylo-Kulkarni, Drake University
Marcia Hino, Positivo University
Maria Gonzalez, Florida International University
Milber Bourguignon, COPPEAD Institute of Administration
Ming(yu) Zhang, Florida Memorial University
Nadine Barrett Maitland, University of the West Indies, Mona
Oluwamayowa Ogundaini, Cape Peninsula University of Technology
Oluwatosin Araba, Cleveland State University
Peter Polak, Florida International University
Phuong Tran, Auckland University of Technology
Polina Durneva, Florida International University
Qi Deng, Dalhousie University
Ranjeet Deshmukh, Florida International University
Ricardo Anderson, University of the West Indies at Mona
Samaa El-Nagar, Virginia Commonwealth University
Santiago Forero, University of Houston
Sellina Kapondera, Royal Holloway University of London
Shangjun Wang, Florida International University
Shaobo Ji, Carleton University
Shekhar Rathor, University of Central Oklahoma
Sinfree Gono, Royal Holloway, University of London
Spurthy Dharanikota, Florida International University
Tala Mirzaei, Florida International University
Ulysses Pacheco, EAESP - FGV
Vanessa Daniel, Pontifícia Universidade Católica do Rio Grande do Sul
Vivek Singh, University of Missouri St. Louis
Xiaoni Zhang, Northern Kentucky University
Xuan Tan, Florida International University
Yan Chen, Florida International University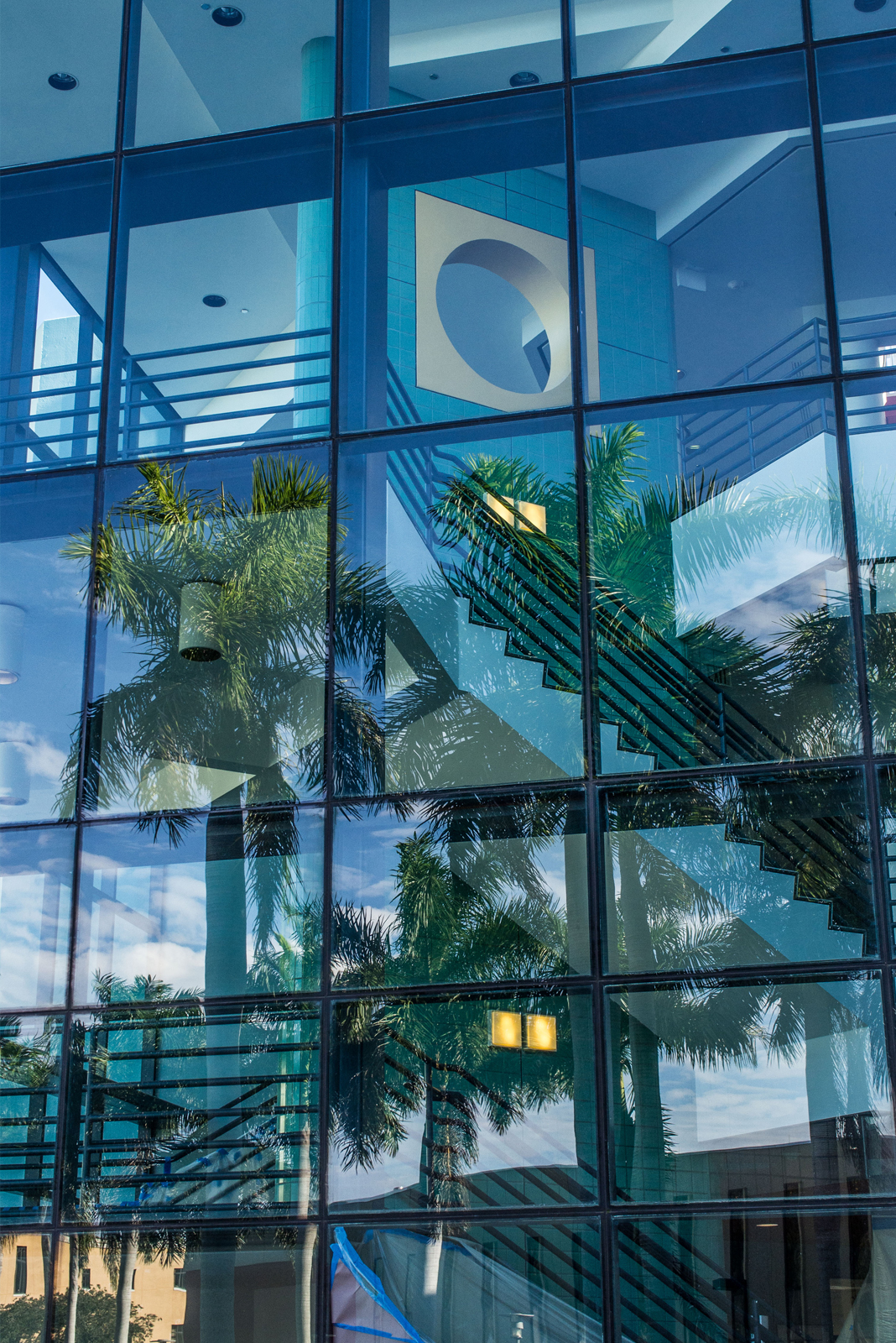 REGISTRATION FEES
Type

Early Registration
Before May 15, 2020

Regular Registration
After May 15, 2020

Faculty
US$30
US$50
Student
US$30
US$40
SPONSORS