Faculty Awards and Honors
Prestigious international appointments for Associate Dean Kundu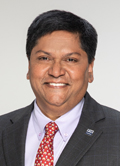 Sumit K. Kundu, a professor of international business and James K. Batten Eminent Scholar Chair of International Business, has been elected vice president and president-elect for the Indian Academy of Management, an affiliate of the Academy of Management, the premier management research and education body of management researchers and educators in the world.

Kundu, who also serves as associate dean, international programs for FIU Business, was also nominated to become a fellow of the BAM Peer Review College. This is an honor bestowed upon a select few scholars by the British Academy of Management.
In addition to winning multiple awards for teaching at the college, Kundu was inducted as an Academy of International Business fellow in 2020. He was also appointed in March 2017 as the associate editor for   Journal of Business Research, as a board member for the European International Business Academy and has served as associate editor for the   Journal of International Management and vice president of administration for the Academy of International Business. He has served on the editorial board of premier journals, including the  Journal of International Business Studies, Management International Review, Global Strategy Journal, Journal of World Business, International Business Review, Journal of International Management, Thunderbird International Business Review, Journal of Teaching in International Business and   Cross-Cultural & Strategic Management: An International Journal and   International Journal of Emerging Markets.