Faculty Awards and Honors
Lyles named Academy of Management fellow.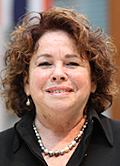 (May 10, 2021) Marjorie A. Lyles, a dean's distinguished research fellow at FIU Business, has be elected as an Academy of Management (AOM) fellow, one of 14 scholars worldwide to be selected for the prestigious honor in 2021. The designation of fellow recognizes and honors members of the academy who have made significant contributions to the science and practice of management. It also provides opportunities for fellowship and a forum for discussion among honorees. AOM is the preeminent professional association for management and organization scholars.
Lyles, one of the world's most prominent scholars in international business and strategy, joined FIU Business as a research fellow in 2018. In a career spanning over 30 years of international business research, teaching and consulting experience, she was most recently the OneAmerica Chair in Business Administration and a professor of international strategic management at the Indiana University Kelley School of Business.
Lyles' teaching and research have focused on emerging economies since the mid-1980s. She has been doing projects and work in China since 1985 when she was a consultant with the U. S. Department of Commerce in the Dalian programs.
In addition to her academic work, Lyles has consulted with USIS, World Bank, USAID, UNDP and private firms in Malaysia, Hungary, Vietnam, Poland, People's Republic of China, and Indonesia on international strategies, education development projects, infrastructure projects, the development of the private sector, and needs assessment for management training.
Lyles is the second scholar affiliated with FIU Business to receive the AOM fellow designation. MaryAnn Von Glinow, Knight Ridder Eminent Scholar Chair in International Management, director for the Center for International Business Education and Research (CIBER) and Eminent Scholar Department of International Business, is also a an AOM fellow.