Faculty Awards and Honors
Haar chosen for national competitiveness council.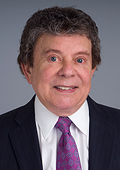 (May 11, 2022)  Jerry Haar, professor of international business, has been named a senior fellow at the Council on Competitiveness, an organization that brings together members from academia, business, labor, and the national labs to champion a nonpartisan action agenda that fuels entrepreneurship and spurs the commercialization of new ideas. In this role, he will provide strategic advice to help guide the Council's policies and strengthen its membership. Haar was chosen for his expertise on matters relating to U.S. competitiveness and is expected to play a key role in several upcoming council initiatives. These include the next phase of the National Commission on Innovation and Competitiveness Frontiers, whose working groups will address key issues around workforce, sustainability, place-based innovation and disruptive technologies, as well as the Council's communications and branding efforts. In addition to his work at FIU Business, Haar has held numerous academic and professional appointments, including the Woodrow Wilson Center, Georgetown University, and the Council of the Americas.